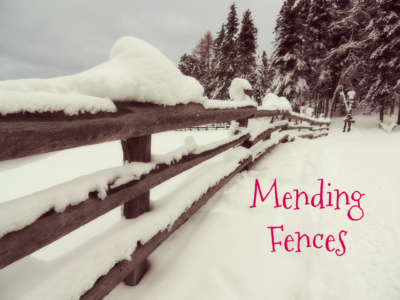 This is Part 3 of this year's Christmas story. You know, we can find forgiveness from God for the most horrible of sins, but that doesn't mean we don't still deal with the consequences. One of the most devastating consequences of sin are destroyed families. And they are all around us. Join me today as we continue the story of two sisters who are struggling through this very thing. (If you have landed on this story for the first time today, you can find Parts 1 & 2 here.)
"Good morning, Mom! Didn't you ever go to bed?" Greta said brightly, waking me up with her words.
I groggily looked around me and realized that I was still on the sofa where I had relived those awful years over again in my mind the night before. I smiled at that baby girl, who was now so grown up.
"Good morning, sweetheart. What's on your schedule today?"
"I have two classes and then I will be at work for the dinner shift. I'll just study at the library in between classes today." Greta was in her second year at the community college nearby and also worked at a local restaurant.
"Hope you have a wonderful day!" I gave her a big hug as I raised myself out of the comfortable corner of the couch that had been my bed the night before.
"You, too, Mom. What are you doing today?"
"That's a good question," I laughed. I had off work today and I was still thinking through what I wanted to get done.
Greta headed out the door and I walked to the kitchen to make a cup of coffee. Still in my clothing from last night and looking rather rumpled, I looked rather like a vagabond.
After breakfast and a shower, I decided I'd go see my mom. She lived in an assisted living community nearby. She had never really recovered after Dad died 15 years ago. She had never been that strong and his sudden death from a heart attack had left her heartbroken and in a weakened physical state. About eight years ago now, I had arranged for her to go to Good Shepherd Assisted Living.
It was around that same time that I started attending Trinity Bible Church, located a couple of blocks from where we lived. I am not sure what drove me to go to church on that particular Sunday but I knew I needed something to help me with the horrible guilt I had lived with since that fateful night. It had weighed me down like a million pound rock!
It was through Pastor Jack and his wife, Patty, that I would find out about God's forgiveness. They opened the Bible and showed me from its pages how Jesus had died for me and that no matter what sin I had committed, forgiveness was available for me. It had taken me several months to actually believe that I could be forgiven for something so awful. But when I finally repented and surrendered my life to Jesus that million pound rock rolled right off my shoulders! I hadn't even realized how heavy it was until it was gone.
Greta was saved just a few months after I was and then Mom shortly after that. All three of us had been going to TBC ever since and, within a year, that small church on the corner was like the extended family we never had. It was there that we grew in our faith through the expository preaching of the Word and the discipleship of those who were more mature in the faith. I thanked God most every day for His kindness in leading me to that truth-teaching church and showing me the way to salvation.
Since coming to know the Lord, the one thing that had really been on my mind was my sister. A few years after I was saved, I read Romans and came across this small, powerful verse towards the end of chapter 12: If it is possible, as much as depends on you, live peaceably with all men. And I found myself wondering if I had done everything possible to be at peace with my sister?
This time of year was especially hard. October was when we'd have so much fun preparing for the holidays in Dad's store. Every year I thought about reaching out to her and every year I chickened out. I just knew she would reject me again and I wasn't sure I could bear it.
California had treated her well. She had a great job and had ended up marrying a guy named Mark. They had had three kids. Two boys and a girl. I only knew this because she communicated occasionally with Mom. But poor Mom had never even met her grandkids. Their happy faces were in frames on the wall of her small apartment but she had never heard their voices or put her arms around them.
I felt responsible for this, too. Evie was still so angry with me that she hadn't even brought her kids to meet their Grandma. Oh, the burden was so hard to bear. The Lord, in His awesome grace and mercy, had taken away the guilt and the shame, but I still lived with the pain and the devastating consequences. They would always be with me, I imagined. The only good to come from that awful time was Greta. Oh, how I thanked the Lord for my precious daughter. She was the one and only bright spot in the whole affair.
What if you would just try just one last time to reach out to Evie?
The thought came unbidden and totally unexpectedly. Could I risk it? But what was I even risking? She couldn't reject me any more than she already had. Surely, it would be worth at least trying—if not just for Mom's sake.
Yes. I would try.
"But it won't work," my mind insisted.
The memory of the last time I had tried to apologize came rushing back. It was shortly before Dad had died. I had called her for the third and final time in my efforts to make things right. But before I could even get one sentence out she had firmly said in a stone-cold voice that she would never, ever forgive me and to never call her again.
I never had.
But that was fifteen years ago now. Since that time, she had gotten married and had three kids. Would she see things a little differently now? Since Bryce had been born she called Mom a lot more often. Maybe she was changing, too. Like I was.
I decided to sit down and write her a letter before I lost my courage. I called Mom and told her I'd be a little later than I had planned and then sat down to write. I read and re-read the letter. I erased and re-wrote. I crumpled the first and then the second and third drafts in my hand and threw them in the trash. But, finally, I had penned this letter–
Dear Evie—
I have been wanting to write this letter for such a long time now. Nineteen years ago I sinned against you in a way that is truly unforgivable.
I cannot begin to tell you how many times I have wished that I could go back and change what happened. But, to my great sorrow, I can't. I can't fix it. I can't change it. I can't undo it.
But I want to ask you just one last time to forgive me. I beg you to forgive me for betraying you. I sinned against you in one of the worst ways possible and I have regretted it every single day since. But I love you, Evie. I always have and I always will. It would be my greatest desire to be sisters again.
Love,
Your sister, Eliza
I sucked in my breath as the tears rolled down my face. One of them dropped on the letter, smearing the E in my name. Should I write it again? I sighed and realized that I didn't have the emotional energy to write it again. I shrugged my shoulders and folded up the letter. I stuck it in an envelope and then popped it into my purse. I needed to get her current address from Mom.
I didn't even have my sister's address. Oh, what a sad and sorry state of affairs. But with God's help, perhaps we could start rebuilding this family. And maybe it would start with my letter.