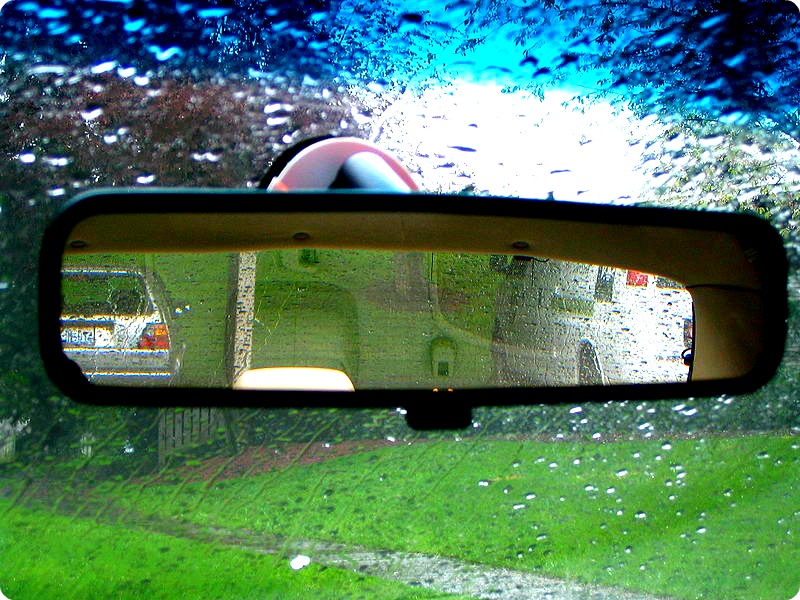 Sometimes you hear just the right sermon at just the right time.
That's exactly what happened yesterday. The pastor didn't know that I needed to hear his message. But God did.
You see, I've been spending quite a bit of time recently looking in the rear view mirror. Unexcited about what's ahead of me and mourning what is past, I didn't really think much of it. Just figured that it's part of this time in my life. I certainly didn't think that I was disappointing my heavenly Father with my longing looks back to the past.
But yesterday I realized that I need to stop looking in the rear view mirror and place my focus on what's ahead of me. Here are a few points that really hit me as to why this is so important, straight from this sermon–
1) While some review of history is helpful (we've all heard the quote "those who ignore history are destined to repeat it), we need to be so very careful that this focus doesn't turn into an obsession with regret, revenge, or remembering the "good ole' days".
2) Looking in the rear view mirror always leads to a focus on self–looking at my reflection, looking at what I've accomplished, how I've been hurt, what I have lost, my failures, my successes–it's all about me. But when I look forward, that all fades and I can embrace the future and place my focus on God and others–right where it belongs.
3) Success and failure are always history. We can't let our past successes define us. We can't let our past failures destroy us.
4) We are told to look straight ahead in the scriptures. I am not sure why I never noticed these verses before. Notice the words in bold:
PROVERBS 4:23-27
23 Keep your heart with all diligence,
For out of it spring the issues of life.
24 Put away from you a deceitful mouth,
And put perverse lips far from you.
25 Let your eyes look straight ahead,
And your eyelids look right before you.
26 Ponder the path of your feet,
And let all your ways be established.
27 Do not turn to the right or the left;
Remove your foot from evil.
Let your eyes look straight ahead. Not behind you nor to the right or left. But in front of you.  There it is–commanded right in scriptures.
Wow. Never noticed that before.
And so it is with humility that I realize that longing for the past is not only detrimental to me, but displeases my heavenly Father. Funny how you can be so blind to some things–and then one day, God opens your eyes.
I thank Him for showing me this.  And now that my eyes have been opened, I have a responsibility to change my focus. It won't happen instantly, but, thankfully, I know I don't need to do it alone, but can be confident that the Holy Spirit will be with me, strengthening and guiding me.
Where is your focus today? Are you stuck in the past? In regret? Or thoughts of revenge? Or perhaps dwelling on past successes or failures? Let's take our eyes off the rear view mirror this week and instead turn our eyes straight ahead towards our Savior and others.