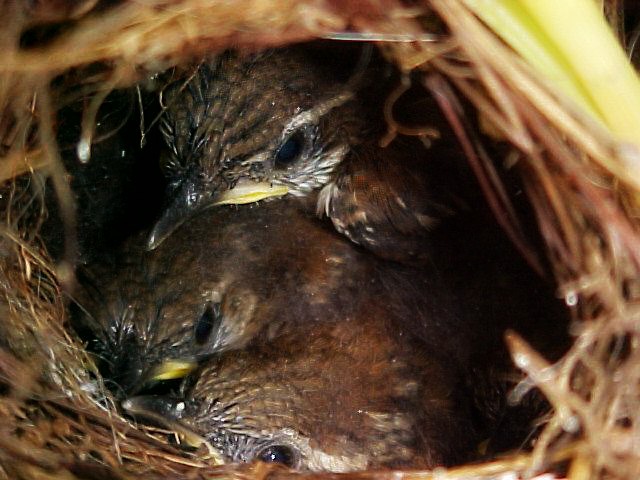 We have a nest full of almost grown birdies in our home right now, with two young adult children almost ready to fly, a college student, and a 9th grader. While we enjoy their company and are glad to have them with us for right now, one of the greatest challenges we face is determining correct boundaries for these almost full-grown birdies.
I have seen parents that have completely eliminated rules and expectations after their kids have graduated high school. Usually this has not turned out very well.
I have also seen parents who have tried to micromanage the lives of their young adults. This, too, does not often turn out well.
But how do we find the balance in this area?
I have had a couple of different friends ask me about this recently. I thought I might take a few moments to let you know what we do in our home–not that this is the "perfect" formula– but we do have a good relationship with our young adult children (most days) and I thought I would share how we have managed to do that. (And don't stop reading here if you have young children! The peace we enjoy now is because of some things we did when they were small, which I will talk about in this post, as well).
First, we have given them the control of their personal choices and decisions that are outside our home. They are now old enough to determine where they want to go, who they want to be with, and how to spend their money. It is important for them to experience the consequences of bad choices and the blessing of good choices. If we constantly monitor and rescue, they will experience neither.
Second, we continue to have good conversations and discussions about the things that matter– morals, standards, discernment, world view, budgets, time management. Our kids often ask us for advice and, while they don't always follow it, they will generally give consideration to what we are saying. The only reason we can do the first thing is because of the second thing.
Third, we continue to hold standards and rules for our home that they must follow if they are going to live here. Some examples of this are, as a general rule, we do not allowed R-rated movies in our home, we do not allow music that is offensive to God to be played aloud, and we do not allow them to come in at all hours of the night. We ask them to be considerate of our preferences in these areas if they choose to live with us. However, we do make exceptions on occasion and, for example, as long as we know they are coming in at 2am and it isn't happening every day, it is fine.
Fourth, we do not punish our twenty-somethings. We believe that the relationship has moved beyond that. We do not take their cars, their phones, their TV. I do not check up on their phones or their internet use. We can do this because we trust them. With that said, we do "fine" them on occasion!
Fifth: the couple thing. Both of our twenty-somethings are dating. When they first started dating as teenagers, we would really watch over them. We would not allow them in the basement or bedrooms alone and we kept a close eye on them when they were in our home –or driveway ;). It was our way of helping to protect them from themselves. But as they have grown older, we realize that their purity is a reflection of their relationship with God and that they are now accountable to Him, and we have relaxed in this area a bit. But again, we can do this because we trust them.
Sixth, we do require some simple chores to be done. For some reason, young adults feel that they "grow out" of chores, and yet the chores still remain and, in some cases, are enlarged, as the kids become adults. It is very important (in our opinion) to expect the young adult kids to help with chores around the house. It gives them some sense of what to expect in the future (although they truly do not really have a clue!) and also helps to lighten the loads of Mom and Dad a bit. A question some of you might have is what to do about rent. At this point, we do not charge our kids rent. I am still not really sure if this is in their best interest or not, but I see them saving their money and not spending it too unwisely so we feel that this is the best option to give them the best start in their lives. If we felt that they were wasting their money we would probably have to re-visit that.
What we are doing works for us. It works for us because of some really important things we did when our kids were younger. If you have younger kids, start this now, so that your young adults will be joys instead of headaches–
1. Listen. Listen. Listen. Kids of all ages have big questions. Listen to them and then find the answers. Yes, it takes work but it is worth it. Take the time for conversations of substance.
2. Teach your kids about the Lord. Take them to church. Help them hide His Word in their hearts. Make God the priority of your family instead of sports, education, or anything else. Enjoy all of these things, but don't sacrifice God because of them.
3. Teach them to respect you as an authority, so that when it is time for God to be their final authority they have already developed a spirit of submission and obedience.
4. Make boundaries that are driven by scripture, not by man made traditions. Explain why the boundaries are there and don't budge if you have scripture as your basis.
5. Be a person they can relate to. It is so important to be humble and admit mistakes. It is so important to be fun and to laugh with your kids. It is so important to show your fear, your sadness, and your joy with them. Only when they realize that you are a fallible human being, just like them, will they be able to open up their hearts to you.
6. Love unconditionally. Let your kids know that there is absolutely nothing they could do that would stop you from loving them.
7. Pray. Alot. I almost always end my parenting posts with this thought. I cannot express just how important I believe this is. Pray for their spiritual welfare. God wants them to know Him. We need to pray for the hearts of our children every day.
Whew. This post covered a lot. That wasn't my original intention. Hope I didn't overwhelm you!
Our kids are still growing up and are still making mistakes — kind of like their parents. And as I write this, I don't want you to think we have it all together — because we so don't. God's grace has covered SO much. But if we give our best efforts and make choices with a desire to please Him, we have found that He meets us half-way (or is it a quarter of the way??) and takes it from there. God is good. When we choose to honor Him with our lives and with the way we raise our families, He will guide and sustain us.
Are there some exceptions to this pattern? I know there are and it must be heart-breaking. I do not point fingers of judgment at any who have lost children to the world. Young adults make their own choices. We, as parents, can only do so much. We need to keep loving and praying. Never stop loving and never stop praying. We can pray with confidence because we know that God wants our children to be saved.
May God bless you as you raise your children to love and serve Him!