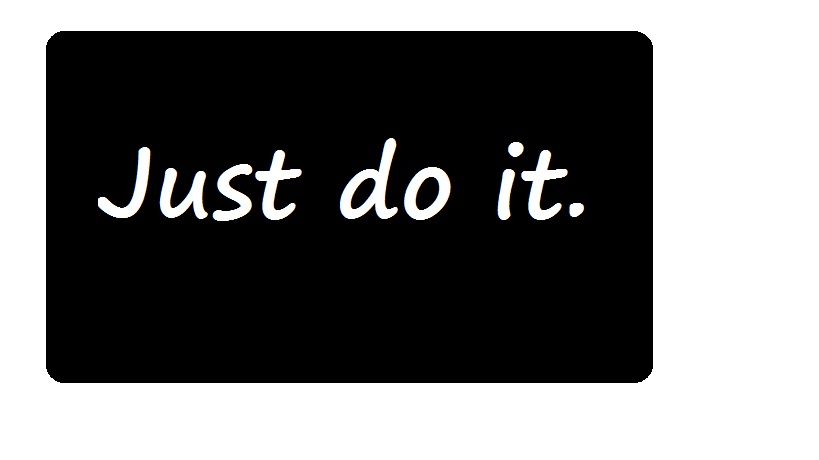 For many of us, January 2 brings the opportunity for a fresh start.  Some of us have specifically set New Year's resolutions.  But, if you are like me, those resolutions usually last about a month…if that.   So what truly brings about lasting change?  Why can even people who do not know the Lord change for the better?
Could it be that they just do it?  They just make up their mind to behave a certain way and then follow through on that decision?    When Nike came out with their logo of "Just do it" I wasn't sure what to think. But recently, I realized the wisdom of that phrase.
Our language is so peppered with words like "try" and "maybe" and "perhaps" because we are so afraid to commit to change.   And maybe that is because we are so afraid to fail.    When we make the statement, "I will lose weight," or "I will stay on a budget,"  it sets us up for failure.  It is much easier to say "I will try to lose weight,"  or "perhaps this is the year we will work on the budget,".  Now, we have a way out.  A bit of a loophole that we can crawl through if it doesn't work.
As I was thinking about this, I realized that the Bible never tells us to try to trust the Lord.  There is never a verse that says perhaps we should love the Lord with all of our heart, soul, mind, and strength.  Instead, the Bible is filled with verses of commands we are to obey.  There is no loop hole there.  Below, I have placed a few verses that I looked up as I was writing this.  I didn't find one verse that gave me a way out of obedience.
So, how does that affect our resolutions?   I think it is because many of the resolutions we set have to do with sin issues in our lives.  Perhaps we are overweight (gluttony) or we are in debt (money is our idol) or we are wrapped up in an evil habit (spoken against in God's Word).   So we know that these are areas that God wants us to have victory.   What are some steps we can take to assure that we succeed this year?
First:  We need to set attainable goals.  I am in the process of trying to figure out what are realistic goals for me.  If we make a resolution to run an hour a day and we are having a hard time even finding 15 minutes of extra time for exercise, we are setting ourselves up for failure.   In his book, Total Money Makeover, Dave Ramsey recommends paying off the smallest debt first, so that there will be some reward early on.  I think the same is true for setting goals.  Set one that you can actually reach.  And when that one becomes a habit, then stretch yourself a bit further.  It doesn't have to be New Year's Day in order to set a goal.
Second:  We need to pray and ask the Lord for His guidance as we set goals.  It is important that we make sure the goals we set are in accordance with His Word and His will for our lives.  Let's ask Him to give us strength.  We need His help.
And  third: Once we have determined realistic and attainable goals and we have asked the Lord for guidance and strength, let's commit each morning to doing them for just that day.  Let's actually follow through.  We make it seem so hard.  But it's not hard.  It just takes commitment.   We just need to do it.
Here's to 2012 and attainable goals!
Proverbs 3: 5-6  Trust in the LORD with all your heart, And lean not on your own understanding; 6 In all your ways acknowledge Him,  And He shall direct[a] your paths. 
Mark 12:30  And you shall love the LORD your God with all your heart, with all your soul, with all your mind, and with all your strength.' This is the first commandment.
Philippians 4:8 Finally, brethren, whatever things are true, whatever things are noble, whatever things are just, whatever things are pure, whatever things are lovely, whatever things are of good report, if there isany virtue and if there is anything praiseworthy—meditate on these things.
Colossians 3: 12-13  Therefore, as the elect of God, holy and beloved, put on tender mercies, kindness, humility, meekness, longsuffering; 13 bearing with one another, and forgiving one another, if anyone has a complaint against another; even as Christ forgave you, so you also must do. 
James 1: 2-3  My brethren, count it all joy when you fall into various trials, 3 knowing that the testing of your faith produces patience. 
James 4: 7-8  Therefore submit to God. Resist the devil and he will flee from you. 8 Draw near to God and He will draw near to you. Cleanse your hands, you sinners; and purify your hearts, you double-minded.