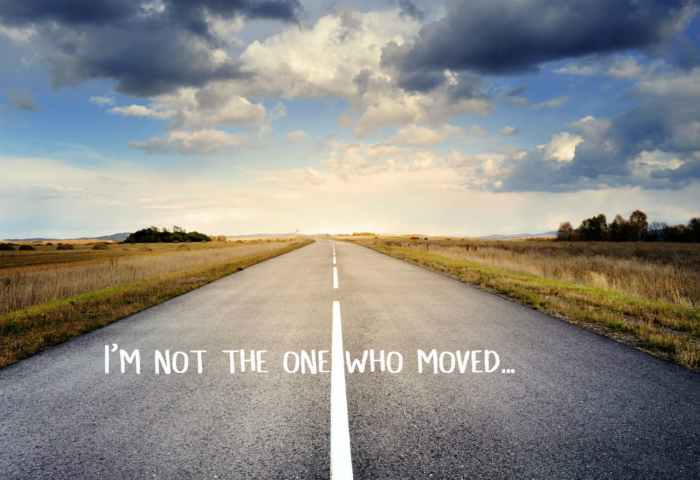 This is for my Christian critics. The ones who label me narrow-minded and arrogant because of what I believe. I hope that this post will also encourage and aid my readers who are also labeled in this way.
There is a really important thing that our critics have forgotten–
We aren't the ones who moved.
Seriously.
While there was always a remnant of believers who lived according to the Word even during the Dark Ages, we saw that, with the Reformation, there came a return to the important five solas–key doctrines of scripture.
These five solas returned a wayward mainstream Christianity back to its core and we owe much gratitude to men like Hus, Tyndale, Luther, Zwingli, and Calvin (and so many others) who were persecuted and even died because they stood firmly on the Bible and its precepts.
I am watching the first three of these five solas slowly being eroded away by mainstream evangelical Christianity but I still believe them. Many of us have always believed them–even without a history lesson on the Reformation– because they are what the Bible teaches.
The first point, Sola Scriptura (Scripture is sufficient and authoritative) is being ripped to shreds all around us. Belief that God is still speaking flies in the face of Sola Scriptura. Scripture cannot be sufficient if we are still receiving revelation from God. So is scripture sufficient or isn't it?
I believe it is both authoritative and sufficient. I do not make that statement lightly and I have given the issue both research and prayer. Here are four key reasons why I absolutely believe it is sufficient. I have attached a link after this section that goes into this a bit more–
1) If scripture is not sufficient then we have a veritable Pandora's Box of chaos. Anyone can say anything and claim it's from God. And yet there is no way to prove any message is from God. Some will say that if it agrees with scripture then we can know it's from God. Well, if that's the case, then why do we need to be told this same thing in a supernatural way? Why not just read the Bible? And here's another thing we know: Satan masquerades as an angel of light. He can–and does–use these things to pretend to be our godly advisor, only to eventually draw us off the narrow path. My rule: Don't trust the voice inside my head. There is absolutely no way to know if it is God or isn't. None.
2) If scripture is not sufficient or the authority of our lives, then we are going to be driven by things outside of the Bible like culture, felt needs, and other dangerous doctrines. Because if scripture is not sufficient then we naturally have to concede that scripture does not tell us everything we need to know. This kind of thinking leaves a very dangerous door open. And it's the door that brings in most, if not all, false teaching. In fact, this door is the one that Joseph Smith walked through, deceiving millions. He claimed to have further revelation and started the Mormon church. I can't think of one false religion that did not begin with "special revelation" or a vision from "God". There may be one, but I can't think of one.
3) If we are hungering for supernatural experiences directed to us personally, we naturally have to admit that this takes the focus off of God and puts it squarely on us. Our religion becomes about our purpose, our dreams, our needs, our wants. This is in complete and utter contradiction to what scripture teaches, where we read that we are to deny ourselves and take up our cross. (Matthew 16:24)
4) Special revelation breeds pride and division. When we think we should be hearing from God but aren't we grow envious and jealous of those that are or we grow discouraged that somehow we aren't spiritual enough. When we think we are hearing from God, we grow prideful and arrogant, thinking that we have some special connection with God that others do not have. The fruits of this movement are clearly disturbing, a fact we must face.
You can find a more in-depth article that I have written on this topic here.
We also see the second and third solas disappearing: Sola Fide (by faith alone) and Sola Gratia (through grace alone) (Ephesians 2:8) If we believe that salvation is by faith alone through grace alone then we must conclude that any religion that doesn't teach this truth is a false one. And, yet, there is this powerful effort from well-known leaders that would encourage us to unify with Catholicism (faith plus works), Mormonism (works plus faith), and even Islam (works and a little faith). We are all to be one big happy group together serving God. Any refusal or even hesitation to follow after this movement brings accusations of divisiveness and intolerance.
But let's be honest: Their God cannot be the same as the One, True God. And the real Jesus is obviously not the same as their "Jesus". How do I know this? Because they require other things besides faith for salvation. Because what they are teaching is not what the Bible teaches. And because their religious rules and regulations are in direct opposition to what Jesus taught in the scriptures (John 14:6).
This is what Orthodox Christianity has believed for thousands of years because this is what the Bible teaches. But sometime in the not-too-distant past, things started to subtly change. Special revelation, hearing the voice of God, dreams and visions–a claim made by only the heretical fringes of Christianity throughout history–became the norm while pastors we loved and trusted started to push us to be joined together with false religions and false teachers.
What is going on??
And then there is the whole moral shift. Two big things come to mind, although I know there are more. First, since the inception of Christianity, the main goal of a Christian was to grow in holiness and godliness (I Peter 1:15-16; Titus 2:12). We were to separate from the world and to set ourselves apart for God's service (James 1:27; I John 2:15-17). What has happened to these principles? Where is the separation from the world? Where is the encouragement to be holy and sanctified? It has all but disappeared in a "Christianity" that takes the focus off of the Gospel and puts it on fixing the culture. That tells us to follow our dreams and that we deserve our best life now. A warped "Christianity" that ignores true doctrine and bases its false doctrines on felt needs, feelings, and human wisdom and that encourages a sensual, earthly type of worship.
And then there is the latest thing I have to confess I didn't really think I'd ever see. But here we are. Did you ever think you'd see a day where someone who claims to be "evangelical" would say it is normal to be gay? That God created them that way? Whatever happened to Romans 1 (Romans 1:24-27)? Where does that fit into their premises? And, yet, this is what we have. Respected leaders of the evangelical movement assuring us that it is okay to be a celibate gay person–that God made them like that. (If you need proof, check here and here.)
In light of all of these things we find that–
by default, the narrow road is becoming even more narrow.
Those of us who haven't moved are not the ones making it narrow. We are standing where we have always stood. But with so many people walking away from biblical Christianity and heading for the broad road, the narrow road has naturally become more sparsely populated.
Those of us who hold to biblical Christianity find ourselves growing lonelier and lonelier. We find ourselves mocked, marginalized, ignored, and sometimes even persecuted. This narrow road is becoming more and more difficult to traverse. It is a rocky, difficult road and it is easy to see why so many leave it.
(Please keep in mind that I am making no judgments on why those who are moving away from biblical Christianity are doing so nor am I speculating anything about their eternal destinies. I am simply, like you, watching, broken-hearted, as so many turn away from all they've ever taught and believed. A sad thing indeed.)
As more and more people defect to the mystical, ecumenical, and communist/left evangelicalism, it naturally makes those of us who have chosen to stay where we have always been look narrow-minded and arrogant.
But, again, I want to remind you that we are not the ones who moved. We are not the ones re-defining Christianity. We are not the ones changing how we interpret scripture. We aren't the ones going against what scripture teaches, teaching unbiblical things such as: Christianity is here to change culture, that Christians deserve to have their dreams fulfilled, that worldliness has nothing to do with godliness, and that the local church is to be designed around the needs of the lost. We are not the ones who are speaking at conferences with those who are clearly false teachers, giving validity to their ministries by speaking alongside them.
What is wrong with this picture? Why are those of us that refuse to move the "bad guys"?
Actually, I know why.
Peer pressure is a very powerful thing. And those that don't fit in the mainstream have never been and will never be popular. Whether you are talking about church issues or work issues or school issues. The one who won't fit in with "group think" is inevitably marginalized, maligned, ignored, or persecuted.
And, so, here we are.
If someone out there can give me a valid explanation based on scripture on why I should change my views, I am here to listen with an open mind. If someone wants to show me how my traditional Christian beliefs, backed by thousands of years of Christian history, are no longer correct with an argument that is based on the Bible, I am willing to listen. I am not closed-minded, nor am I hard-hearted or arrogant. I know full-well I don't have all of the answers.
But here is what I do know: The Bible does have the answers. It has the answers for the here and now and it also has great insight into the future. And its predictions about the last days are becoming a shocking reality more each day in a way I never thought I'd see in my lifetime.The Bible is true and real-life events are most definitely confirming this.
So, forgive me, if I don't hop on the mainstream evangelical bandwagon. I don't belong there and I firmly believe that you don't, either.