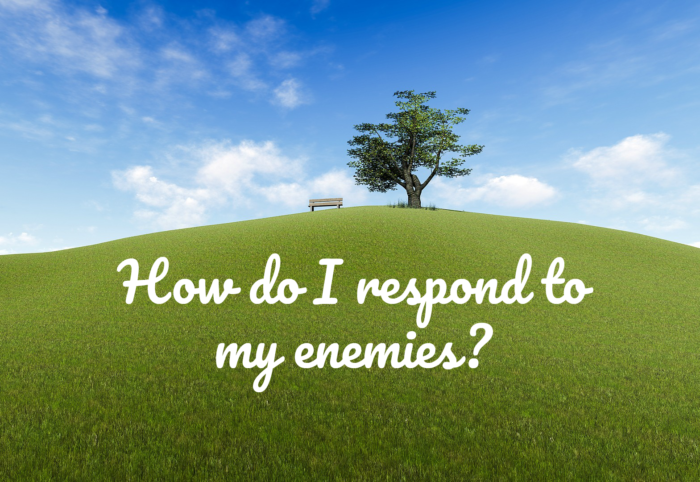 So often Christians find themselves at odd with other Christians. There will be two true believers who just do not agree. Whether it's a disagreement over something as simple as a remodeling project at church or it's a deeper issue of how a certain scripture passage should be interpreted, we will always find someone that we will disagree with about something.
What keeps two people who disagree with each other from being enemies? What brings true Christian unity?
Please keep in mind that this post is referring to unity between true believers and not to the "fake" unity that warmly embraces all perversions of the Gospel and even religions that don't adhere to the Gospel at all to be unified under the broad term of "Christianity". We know that this kind of unity is not biblical, according to Galatians 1:9–
As we have said before, so now I say again, if anyone preaches any other gospel to you than what you have received, let him be accursed.
But there is something that is called true, Christian unity. This unity can only exist between brothers and sisters in Christ. This kind of unity keeps us moving toward the same goals and embracing the same purpose. This unity builds bridges instead of walls. It will fill Christians with loving concern for one another instead of filling them with grudges, resentment, and jealousy.
This sounds so wonderful, doesn't it? But it is often hard to find. Why is this?
Why does someone decide they do not like someone?
Sometimes we don't care for someone based on a shallow, silly thing. And then there are also better reasons, based on things like biblical error or a prideful, arrogant spirit that is consistently divisive.
But we have to ask ourselves: Are any of these reasons good enough? If you were to stand before God today and tell Him your reason for not liking a certain person, would He say, "Way to go, my child. I agree with you completely." ??
Of course we know the answer, don't we? Because we know that God is love. We shouldn't view anyone as an enemy, much less a brother or sister in Christ.
Romans 12:8 puts it like this–
If it is possible, as much as depends on you, live peaceably with all men.
We should, to the best of our ability, work at being at peace with everyone, believer and non-believer. This verse naturally brings two thoughts to my mind.
First, what if someone won't be at unity with me?
Of course, since we know that the world will hate us (John 15:19), we know that it isn't always possible to be at peace with those in the world. But sometimes it is a fellow Christian who refuses to forgive us. Or perhaps they just don't like us but won't tell us why. What then? These kinds of situations are heart-breaking and lead to feelings of helplessness as we try to navigate the back-biting, the whispering, and the cold shoulders.
I have a friend who taught me an important lesson about this very thing. Our daughters were playing soccer together and something happened to her little girl that could have started some real drama on the team. And this was her advice to her daughter, "kill them with kindness". I heard her say that so often when her daughter would feel slighted or frustrated about something. And then, following her example, I started to say this to my kids. Yes, this is what we are called to do.
In fact, Jesus takes it even further in Matthew 5:43-44, telling us to love them, bless them, do good to them, and to pray for them!–
You have heard that it was said, 'You shall love your neighbor and hate your enemy.' 44 But I say to you, love your enemies, bless those who curse you, do good to those who hate you, and pray for those who spitefully use you and persecute you.
This is a tall order, is it not? But there it is. Commanded by Jesus in the Holy Bible. Instead of gossiping, instead of returning the coldness, instead of resentment or anger, we love, we bless, we do good things, and we pray for them.
But we do this because it is right, not because it will necessarily change anything. Let's go back to the beginning of Romans 12:18–
"if it is possible, as much as it depends on you"
We know from these words that Paul realized it isn't always possible. It is part of living life as a sinner, alongside sinners, in a fallen world. Sometimes we just have to follow Jesus's words and find contentment even when there is no resolution and no forgiveness. A hard thing, indeed. But, you know what? This is just another thing that God uses to grow us and to teach us that we must find our peace and joy in Him alone.
Second, we won't be best friends with everyone.
Even among truly unified Christian brothers and sisters, there will be those who are "kindred spirits" and those who are not. And that's okay. But so often special friendships between Christians are viewed with resentment or jealousy. As believers we should realize that we will be better friends with some than others. It is how God designed us. Remember David and Jonathan? If you read I Samuel 18, you will realize that their friendship was very special. Once in a while, God will bring these special Christian friends into our world. They are true treasures and, instead of feeling jealous, we should be glad for others if they have found a special friend.
If we are still longing for this type of friendship, then pray and ask God to bring you a friend. I remember as a young mom feeling the need for this type of friend and so, unbeknownst to me, my mom started praying. And within a year or so of her prayers, God led me to Deb. We realized we were kindred spirits as we sat in a group of women and chatted and, shortly after, became best friends. Don't underestimate the power of prayer if you need a friend!
And then there are those fellow Christians in our lives who could never be a kindred spirit. In fact, some of them drive us a little crazy. We may feel guilty if we don't appreciate a Christian brother or sister like we know we should. What then?
God made us all different and certain personalities may grate on us. We may find them hard to get along with or their mannerisms alone might irritate us. They may be boastful or arrogant.
But if we take a look at Philippians 2:1-2, we have to acknowledge that God doesn't give us any caveat for difficult people–
Therefore if there is any consolation in Christ, if any comfort of love, if any fellowship of the Spirit, if any affection and mercy, 2 fulfill my joy by being like-minded, having the same love, being of one accord, of one mind.
We are to be like-minded with all Christians–as much as it depends on us. We obviously can't control the other person.
So how do we do this? How can we be like-minded? These verses show us–we have the same love, the same accord, the same mind as our fellow Christians. This can only be done if we are diligently studying the scriptures together, submitting our desires and wills to God, joyfully obeying the commands we find there, while increasing our knowledge of God. When people are not getting along, it often goes back to this. Biblical illiteracy once again rears its ugly head in church matters.
And, along with knowing God's Word, we find the oil that keeps things working together smoothly in Colossians 3:14–
And over all these virtues put on love, which binds them all together in perfect unity.
I Corinthians 13:4-6 gives us a description of this love that will break down barriers and bind Christians together in perfect unity–
Love is patient, love is kind. It does not envy, it does not boast, it is not proud. 5 It does not dishonor others, it is not self-seeking, it is not easily angered, it keeps no record of wrongs. 6 Love does not delight in evil but rejoices with the truth. 7 It always protects, always trusts, always hopes, always perseveres.
And I Peter 4:8 is further confirmation of this idea that love will bring unity–
Above all, love each other deeply, because love covers over a multitude of sins.
Even when we don't particularly appreciate a fellow Christian, we can love them. We are commanded to love them. And we should thank the Lord for them, for they are helping us to grow in patience and self-control!
Enemies are just part of life. If we are going to take any stand at all on the things that matter, we will have enemies. We cannot control how they treat us, but we can control how we treat them. And let's intentionally work at not having needless enemies. We must back away from the stuff that doesn't matter. Will it matter in a hundred years what color carpet is used in the church? Is a slight difference in how someone interprets the book of Revelation really a cause for division? Let's wisely and, oh so carefully, choose our battles. Most hills we choose to stand on are just not worth dying on. We don't always have to be right. We don't always have to have our way. So often it just doesn't matter.
And most of all, when we find ourselves in the midst of a heated disagreement with a fellow Christian or facing a full-blown enemy, then let's love them. Love them, bless them, do good to them, and pray for them. If you don't remember anything else from this post, I hope you will remember these words of Jesus.