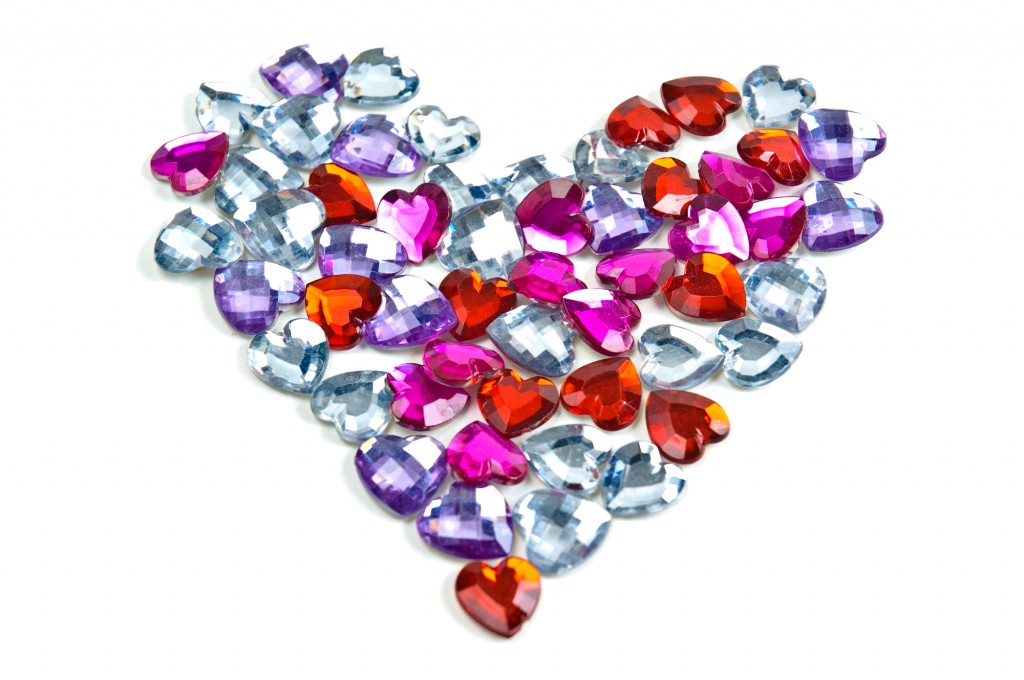 So it is February 14, the day we celebrate as Valentine's Day.  Some of us love this holiday. Many of us hate it. Some of us just want to ignore it. But no matter how you feel about the holiday, it is always appropriate to show how much you love someone. So, I thought I would lighten up the blog today a bit and share a few "heart hints" for us to consider.
1.   Life is so short. Let's enjoy and appreciate EVERY MINUTE we are given with the one we love. So often our focus turns instead to the things we don't like or the stuff that is irritating. Let's choose instead to be grateful.
2.  True love isn't always nice. Every so often we have to tell someone we love really difficult things. Sure, we need to say it in a loving, kind way, but sometimes no matter how you wrap it, it will sound harsh. But true love tells the truth.
3.  Love is just downright hard sometimes.  And for my single readers with their (unrealistic) dreams– let me dash them right now: no one rides off into the sunset to their own personal perfect kingdom. The knight's armor grows rusty, the horse grows old, and the castle is drafty and damp. (I'm telling you the truth because I love you, even thought I know it may sound harsh!) But can we really experience all that love can be if it's never hard?
4.  One of the best places to be in the whole world is in the arms of the man or woman who loves you with all their heart and has proven it over and over again, in spite of your insensitivity and selfishness and big mouth and demanding requests…you fill in the rest of the sentence. Now that is the kind of love that long, happy marriages are made of. (yes, I know I just ended in a preposition, but sometimes it just is the best way to say something!)
5.  Love has to look beyond the present pain. When we are going through a bad time, I try to remember how I felt when I fell in love with my husband. Or to our future hopes and dreams. If we get locked into the present and dwell on it, we tend to grow further and further apart. It's important to keep a broader focus than just that moment.
6.It's never out of fashion to let someone know you love them. If you aren't normally a Valentine's Day gift buyer, well, switch it up this year and go buy your wife or husband a gift! It doesn't have to be expensive, but just something to show them how much they mean to us. Most of us end up in a rut and we forget to show our spouses just how much we appreciate them.
7.  The stages of love are so exciting and such a gift from God! Young love is full of that initial excitement of wanting to be together all of the time, discovering the other person. And then, after marriage, we move into adjusting to living together and learning to give and take.  After the kids come, we fall into a routine and have to work a little harder not to take each other for granted and to keep the romance alive. And then the kids grow up and start their own lives and we get to really enjoy one another's company again. We are comfortable with each other and  look forward to spending time together.  Each of these stages has its blessings. We need to enjoy them for what they are.
8.  It's important to show love throughout the year with hugs and (real) kisses, holding hands, and with words of love and appreciation. This is especially important during that kid stage, when it is just so easy to lose touch with one another in the circus of busyness surrounding you.
9.  Be careful of expectations. I have made this mistake over and over again (my poor husband). I get my hopes up for a special present or date and then when it isn't up to my expectations I feel let down. I am learning not to have such high expectations. This applies to any relationship in life, not just husband and wife (I have done the same thing for Mother's Day).
10. Love suffers long and is kind; love does not envy; love does not parade itself, is not puffed up; does not behave rudely, does not seek its own, is not provoked, thinks no evil; does not rejoice in iniquity, but rejoices in the truth;  bears all things, believes all things, hopes all things, endures all things. Love never fails.*   Oh, to love like this! If #10 was the only heart hint on this list it would be enough.
So there are ten things to think about today. And, please  remember, I'm learning about love and marriage as I live my life, just like you, so please feel free to add your own heart hints in the comment section. I know you have learned valuable things, too, and I would love to hear them!
*I Corinthians 13:4-8