Growing 4 Life Resources for the 2015 Bible Reading Challenge–
Inductive Chapter Study— this worksheet will help you dig deeper into God's Word. I recommend you do this with at least four or five chapters each month as part of your Bible Reading this year. Click on the link to be taken to a printable Word document. You are free to download and pass this along as often as you want.
OTHER RESOURCES–
Jumpstart to Joy (2013)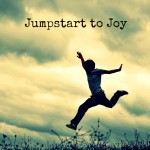 Jumpstart to Joy is a mini e-book on the topic of joy. It includes 10 devotionals. This is free to anyone who requests it. Just e-mail me at leslie@growing4life.net.