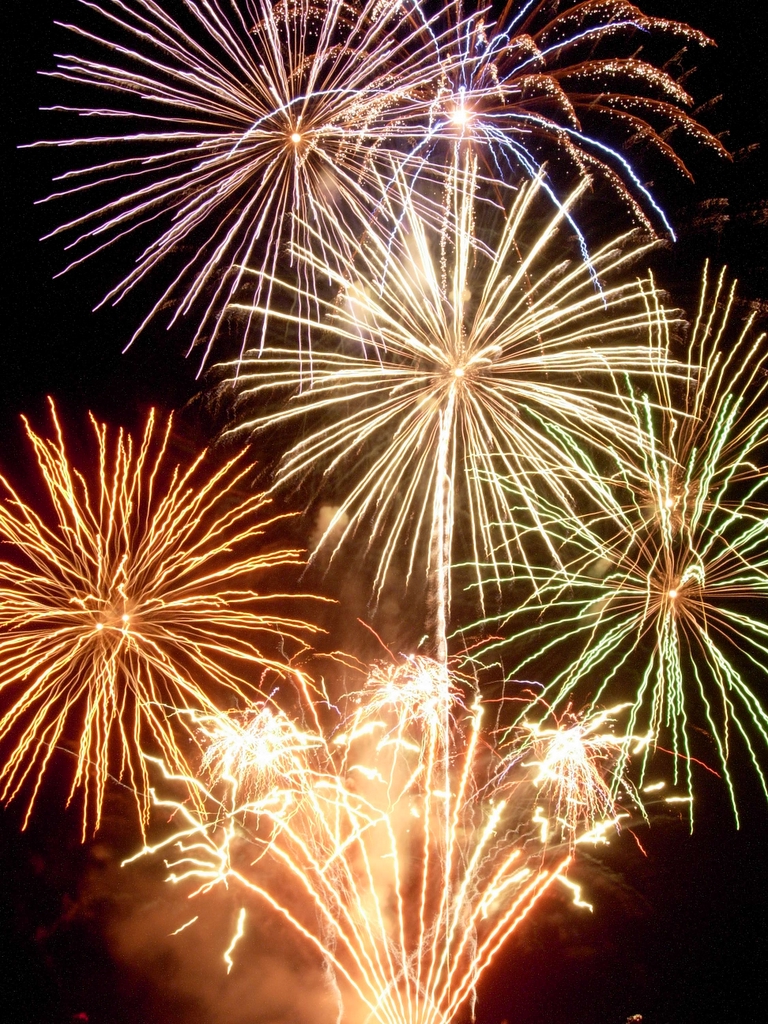 Last night a big gang of us went to watch fireworks.  We decided the best place to watch was the parking lot of a nearby historical society.  Apparently everyone else thought that, too.  But we found a place to park and joined the crowd.   With blankets and chairs in tow, we scoped the area for the best place to sit.  Most of the grassy area was taken, but we found one we thought would be okay, despite the big building directly in front of us. Oh, well.  We settled down to wait for the show.
A few minutes later, one of the guys decided he was going to search for a better spot and off went a group of them.  A few minutes later my daughter ran back and breathlessly told us that we should all follow her, where across the parking lot and behind a building, was the perfect hill to watch the fireworks.
So off we all went with our stuff, down the hill, across the parking lot, and around the building — to the perfect hillside.   Most people hadn't ventured that far and so there was only a couple of other parties of people in the area.  And guess what?  It was a great place to watch the fireworks.  Probably the best place we've sat at in years…maybe ever.
This is the perfect picture of why I write this blog!  I was thinking about it this morning.  So often we are tempted to just settle.  We are tired of the weight battle, we are tired of the kid battle, we are tired of the entertainment battle.  We are tired of battles!  So we just settle.  We don't want to work now for shadowy rewards to come later.  We want our rewards now.  And so we stay right where we are, taking the easy path.  But the easy path doesn't always lead to the best place to watch the show.  In fact, I would venture to say it never leads to the best place to watch the show.
And some of us really do want to take the hard path, but then peer pressure weighs us down.  As I think on last night, I realize that if a few of us would have dug our heals in and said we weren't leaving our spot, the whole group probably would have stayed put.   Thankfully, everyone was willing to walk to the better spot last night.  But, unfortunately, when it comes to real life, we often need to travel on alone in order to take the best path.
Paul tells us in I Corinthians 9: Do you not know that those who run in a race all run, but one receives the prize? Run in such a way that you may obtain it.  And everyone who competes for the prize is temperate in all things. Now they do it to obtain a perishable crown, but we for an imperishable crown.  Therefore I run thus: not with uncertainty. Thus I fight: not as one who beats the air.  But I discipline my body and bring itinto subjection, lest, when I have preached to others, I myself should become disqualified.
We can't afford to be tired or pressured by our friends because we are running the race to win!  And the rewards are great if we don't give up — a healthy body, children who love the Lord, a pure heart and mind, but, most importantly, the imperishable crown we will receive in glory.
Do you remember Aesop's fable about the tortoise and the hare?  I know the point of that is that slow and steady wins the race, but I would like to point out here that the tortoise never took a break, either.  He just kept plugging away without getting distracted or giving in to his exhaustion.  May we be like the tortoise today, as we continue to run the race set before us, always looking for ways to run it better and never giving up!  May we never settle for status quo!