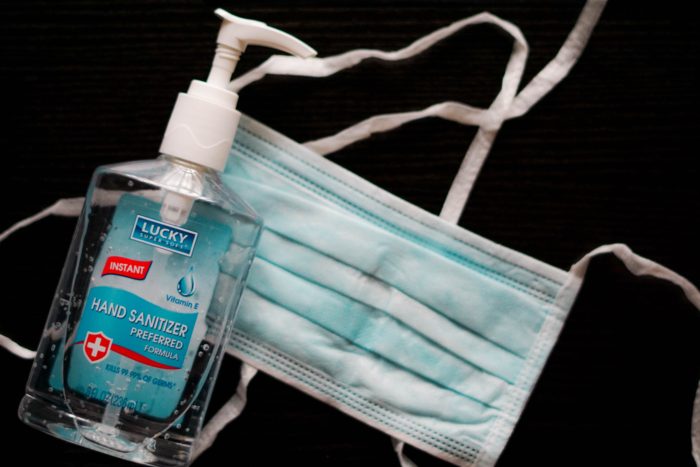 The other week we flew down south to see our new granddaughter. On the way home, we had a stop in Atlanta and then we were finally on the last leg of our journey. On that final flight home, my husband and I looked around and noticed that we were surrounded by people that took virus protection very seriously. Three women scattered around us wore both face masks and face shields.
As we made our way off the plane an hour or two later, we stopped at the restroom. As I waited beside our luggage for my husband, I was quite amused (and a little concerned) to watch one of those women pull out disinfectant spray and spray it all over her husband, front and back. He then proceeded to do the same for her. Ummm…I don't think that is what the spray is intended for.
It was funny but it was also sad. While protecting ourselves sensibly is smart, some people are so scared to die that they will go to great lengths to fight off and keep away from GERMS.
But while you have those extremes, you also have the rest of us. From those who wear face masks inside and outside of their homes 24/7 to those who are just using hand sanitizer a bit more, almost everyone is just a little more aware and concerned about germs.
I believe there is a spiritual parallel here that we shouldn't ignore.
A few months ago a friend sent me an idea for a post. I had it at the back of my mind all summer as I've watched people obsess over their health. But the couple at the airport brought his idea front and center. He said this and I quote:
I was considering all that we have done to mitigate our exposure to a germ that is deemed dangerous to us. This germ is not unlike other germs that have been out there yet we have never gone to such lengths in our society. Even in the church we have gone to great lengths to limit our exposure to this germ. So while the church has went to such great lengths to mitigate its exposure to this germ that can harm our bodies, we constantly expose ourselves to "germs" of false teaching that can harm our faith. Even little issues (small germ) can cause great harm. Yet much of the church does little to warn people or even limit its own exposure.
Amen and amen!
Oh, how churches are spiritual germ-infested places. There is little concern for these spiritual germs that are infecting and killing off their sheep. One by one, many become sick as they read the books and listen to the sermons of false teachers and follow after false doctrines. And not a word is spoken. If someone dares to speak up to protect the sheep, they are viewed as divisive and unkind.
It is especially sad and concerning, given the lengths churches are going to protect the physical lives of their congregations. Don't they realize that the spiritual health of the sheep is even more important than physical health?
But it isn't only churches. It is true for us on an individual level, as well.
Are we as concerned about our spiritual health as we are our physical health? It is quite understandable to see those who have no idea what is happening to them after they die to be overly concerned about dying. That makes sense. But to see believers be more concerned about their physical health than they are about their spiritual health makes no sense at all.
Paul reminds us of what our priorities should be in I Timothy 4:7-8–
But reject profane and old wives' fables, and exercise yourself toward godliness. 8 For bodily exercise profits a little, but godliness is profitable for all things, having promise of the life that now is and of that which is to come.
While there is certainly nothing wrong with giving effort to keeping our bodies healthy and protected from germs, our concern should be far greater for our spiritual health.
Is this what you are seeing in the lives of believers around you? Is this what you are demonstrating in your own life to those who are watching you?
These are questions worthy of reflection.
Satan is eating Christians alive because they are literally unconcerned about spiritual germs. He even has Christians believing that to point out those germs and to say anything negative about a false teacher is sinful. So now we have demonized watchmen in a crowd of earthly-minded believers.
Oh, dear readers, may we not be part of that "crowd". May we pay attention to the watchmen and heed their warnings. May we be far more concerned about heavenly things and our spiritual health than we are about this life and our temporary, physical body.
For this is what scripture teaches us to do.
Colossians 3:1-3  If then you were raised with Christ, seek those things which are above, where Christ is, sitting at the right hand of God. 2 Set your mind on things above, not on things on the earth. 3 For you died, and your life is hidden with Christ in God. 
Romans 16:17-20  Now I urge you, brethren, note those who cause divisions and offenses, contrary to the doctrine which you learned, and avoid them. 18 For those who are such do not serve our Lord [d]Jesus Christ, but their own belly, and by smooth words and flattering speech deceive the hearts of the simple. 19 For your obedience has become known to all. Therefore I am glad on your behalf; but I want you to be wise in what is good, and [e]simple concerning evil. 20 And the God of peace will crush Satan under your feet shortly.
The grace of our Lord Jesus Christ be with you. Amen.