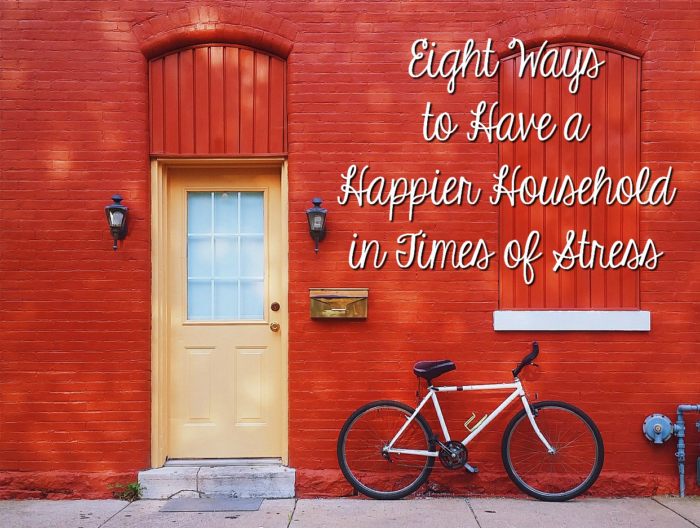 Life can be so stressful. While there are many wonderful times, there are also times that are not so wonderful–like when we take on more projects than we should, our calendars are too full, or we are assailed by several minor–albeit extremely frustrating–trials. If we aren't careful, we can quickly find ourselves overwhelmed, which often turns us into…hmmm…shall we say not our best selves?
Unfortunately, these times generally affect our whole family. I remember hearing many years ago that I, the mother of my home, was responsible for the tone of my household. This seemed rather unfair at the time. But fair or unfair, it was true. We moms do set the tone for our home. If we are angry, frazzled, and stressed all the time, our kids will be, too. If we are short-tempered and irritable, often our entire household will follow suit.
So how exactly do we keep our households happy even when things are crazy busy? I feel a little hypocritical even writing about this because I am not the best under stress (just ask my family!) but I have learned a few things that do help a lot when I actually put them into practice. Here are eight things that have helped me to have a happier household when I am overwhelmed.
1.  Do not skip Bible reading and prayer time. This is often the first thing to go during stressful times even though it should be the last thing to go. Spending time with God helps us to keep a proper, eternal perspective and gives us strength for the day. Keeping this priority is critical during these times.
2. Be grateful. It is easy in stressful times to forget the good things. Taking a little time each day to express our gratitude to God and to our loved ones is like a balm to our soul, building our relationships and reminding us that there is more to life than this stressful moment in time.
3. Listen to hymns or doctrinally-sound praise and worship music. Listening to good music makes such a difference to me when I am going through a tough time. Music is so powerful. What we choose to listen to during these times can lift us up and help us cope or it can frazzle us even more.
4. Don't let anyone manipulate your emotions. My dad told me recently that his dad used to say this to him. While I have been working at this concept for a long time now, I had never heard it put quite like this. Isn't that so profound? What this means is that we shouldn't let our emotions be driven by those around us. If our spouse is angry or our children are grumpy, this should not change our emotions. We shouldn't let anyone have power over our emotions–even bad drivers on the highway and cranky clerks at the store! This is extremely difficult (at least for me) but when we can control our emotions instead of letting them wildly take over when things don't go our way, it makes all the difference in the world.
5. Keep your home free of clutter. I know few people who aren't affected negatively by a house that is constantly untidy. Clearing counter tops, tables, and dressers, washing the dishes, keeping up with the laundry, and sweeping the floor truly doesn't take that much time and goes a long way in helping a family feel more peaceful–especially in times of high stress. I would like to add here that as a young homeschooling mom of four this was especially difficult to do! Every time I turned around a new toy or game was on the floor. But after several years of frustrating my husband over the clutter, the kids and I got in the habit of cleaning up every day before daddy came home. It took awhile to instill this new practice, but with some effort, it was possible and did really help!
6. Remember how fast time goes. If you have young children, you may feel like this time will never, ever end. Your days are filled with endless requests, duties, and demands. But trust me–all too soon, you will be watching your last one pack up their things and move away. You are just in a season. Before you know it, the next season will arrive, with its own challenges and frustrations. Remembering this during stressful times would always help me.
7. Examine your calendar. I can remember several times through the years with my family that I had to step back and evaluate our schedules. I would start paring it down until it became doable again. It is okay for your kids to be home doing nothing. In fact, it's better than okay! It's necessary for their maturity and emotional health. Don't cram your schedule so full that there is no downtime and if you have done that, start eliminating things. As I learned from experience, your child will be just fine without the gymnastics, dance, or piano lessons. They will suffer no ill consequences if they aren't on the soccer or basketball teams. Review your schedule with your spouse, determine your priorities for your family, and then, together, choose one or two of these things that fit best with your priorities and let the rest go.
8. Be careful of your high expectations. This was always a hard one for me. I not only wanted life to be perfect– I expected it! I can still find myself there if I am not careful. We have expectations for our spouses, our kids, our jobs, our homes. When they aren't met we can become grumbly and grouchy. But when we can accept that life will not be perfect on this earth and lower our expectations, we can find contentment. True peace and joy are not dependent on circumstances. Instead they come when we accept our circumstances– knowing we are in God's sovereign care–and we persevere through them.
There you go–eight things that have helped me! It seems funny even writing this as we are now preparing for an empty nest here in a few weeks. But I have learned so much in my parenting years. And, while I didn't always put them into practice, when I did, they really helped! I hope that these eight things may have inspired you to make your home a happier place today.