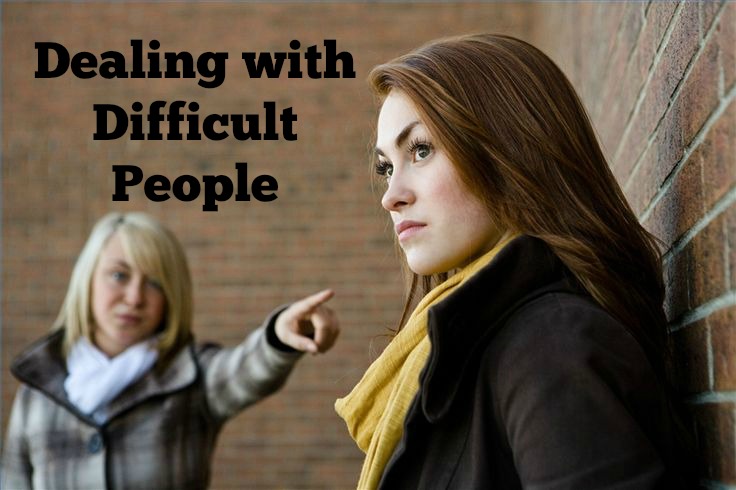 Difficult people. We all have them in our lives. How do we wrestle with impossible, unpleasant situations over which we have no control? How do we work through the anger and the frustration and the hopelessness when someone keeps hurting us–over and over again. I have really been thinking about this a lot lately.
If you are a regular reader, you may remember Part 1. You can read it here. If you haven't read it, I suggest you do. What I wrote there truly revolutionized how I view difficult people in my life. It was written a  few months ago and it was never intended to have a Part 2. However, God has led me to think further about this topic that is so painful and affects so many people. This is my first paragraph from Part 1–
Have you ever had to deal with someone you just couldn't make happy? Or perhaps it is someone who lies constantly, is consistently unkind, or very angry? Or maybe they just absolutely exhaust you by telling you all of their woes? Sometimes, if they are friends, we can gently extricate ourselves from these relationships. But, many times, we can't. We may go to church together. Or we may work together. More often than not, our difficult relationships are within our own families.
If you can relate to this, then I think you will find this post helpful. I would like to share some specific steps we can take to work through a never-ending and seemingly hopeless situation. Notice I did not say "easy" steps. But we need to remember that oftentimes the hardest steps yield the greatest rewards. And if you can take these steps–one slow step at a time– I promise that the bitterness that is welling inside you will dissipate and you will grow stronger spiritually. I can promise you this because these steps are straight from scripture.
1. Submit to God's sovereignty in your life. This is the first step we need to take in any difficult and troubled situation. It is how we need to view any frustrating and annoying person we come across. We can never change someone else, so we need to instead turn our eyes to God and recognize that He has allowed this person or situation in our life for a reason. It is probably to help us grow more like Christ. We can shake our fist at God and rail that it isn't fair or we can submit humbly and ask God what He wants to teach us through this. Both attitudes have consequences. If we choose to be angry, then we will grow hard and bitter. If we choose to submit, we will be filled with the peace that passeth understanding. It is our choice. Of course, Romans 8:28-30 is perfect for this idea of God's Sovereignty but also check out Philippians 1:6 and Romans 5:1-5.
2. Love and forgive the other person(s). So, I know this one is a whole lot easier to write than it is to do. But I didn't come up with this one on my own. This comes straight from the pages of scripture. Check out Matthew 5:44-48 and Luke 6:27. And then turn to Matthew 6:14-15 and Ephesians 4:31-32. There are many more. I just picked a couple. It would seem that loving our enemies and forgiving them are a pretty big part of a genuine Christian faith. We don't have a choice here.
So how do we do this? I am going to share something that has helped me tremendously. When I am at the end of myself and have no love to offer or forgiveness to extend, I ask the Lord to fill me with His love and forgiveness for that person. And He answers that prayer! You see, sometimes we are humanly incapable of giving that love and forgiveness. But God is all-powerful and He has provided the Holy Spirit to guide and strengthen us. He will help us. Keep in mind that this is not a once and done thing. It is often a prayer that we need to pray for weeks, months, or even years. But don't stop asking. And He won't stop answering.
3. Surround yourself with godly people who will build you up. When we are struggling and suffering, it's important we don't fall prey to the very human temptation to hang out with those who will help us point a finger of blame, talk unkindly about the other person, and excuse our sinful attitudes. Instead, surround yourself with friends who will encourage you to respond correctly and biblically. Look up Proverbs 27:5-6 and Proverbs 13:20.
Again, not easy. I know when I am really upset, the last thing I want is someone telling me what the Bible says. And, look, I'm not talking about one of those friends who annoyingly always seems to have the answer and is quite arrogant in the way they give it to you. With friends like that who needs enemies?? No, I am talking about a true and wise friend who will listen and empathize, pray with you and for you, and will lovingly challenge your sinful attitudes.
4. Don't allow Satan to get a foothold in your life because of this situation. This is best done by controlling our thought life! When we feel our thoughts spiraling out of control, we need to consciously choose to think about something else. We need to carefully refuse to let our thoughts take us down to that dark pit where we feel hopeless and full of despair. We need to very purposefully turn away from the angry and bitter thoughts that can so easily consume us. Honestly, this takes work and a lot of prayer but it does get easier! Check out Ephesians 4:26-27 and 2 Timothy 2:22-26.
5. Be thankful. This can be tough. These situations can utterly and completely take over our lives. So grab yourself an empty notebook and start a thankful journal. You will be shocked at how much you have for which to be truly thankful. God has blessed all of us in a myriad of ways. Start writing it down and see how this little exercise in gratitude helps to move your focus from your woes to your blessings. I Thessalonians 5:18 and Ephesians 5:20 are just two of many verses in scripture about gratitude.
I hope these steps help you. It won't be instant and it won't be easy, but if you can follow them, I truly believe God will work in your heart and your life to grow you tremendously through this trial. An added bonus will be the ability to become that friend who can help others when you get to the other side of this trial. You will really be able to understand the challenges faced by someone going through a similar situation and will be able to be used by God in a mighty way– if you choose to submit instead of shaking your fist. If you choose to be thankful instead of bitter. If you choose to grow instead of staying stuck in the mud.
Victory can be yours! This is not a hopeless situation! But, as always, the choice lies with you. No one else can make it for you. No, you can't change the other person, but you can take steps to work on your own heart. If we choose to submit and obey, blessing will surely follow!