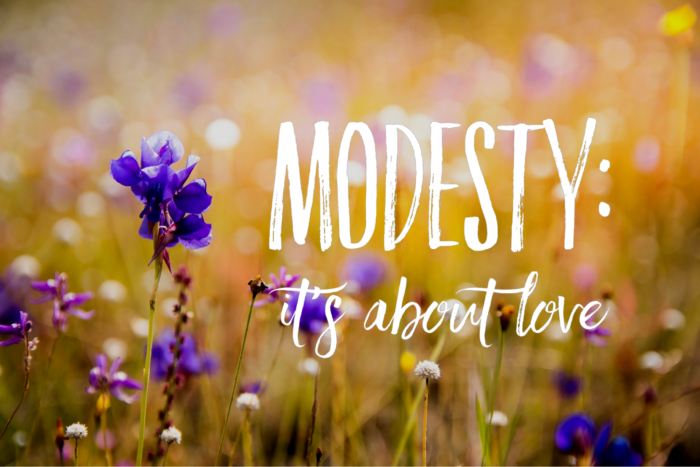 I had an interesting conversation with my kids the other day.
"Your shirt's a little low there, Mom," said a daughter.
I self-consciously pulled it up and mumbled, "I know. This stupid shirt…"
Upon which my son said, "no worries, Mom, no one is looking at you, anyway."
Uhhh, thanks.
But, hey, while it was a little hard on my ego, I also realized that it's mostly true.
So why should I worry about modesty as an older woman?
Perhaps we should first answer the question of why all women–whether young or old–should worry about modesty at all?
I think there is a really good reason that God tells us to be modest (I Timothy 2:9). Let's look at why that might be–
When most men get a glimpse of a breast or see thighs and bottom barely covered or covered by skin-tight pants, they are sexually aroused. This is how God created them.
I don't know why He created them like this. I just know that He did.
Not only is this the way they were created, but then we read in Matthew 5:27-29 that to lust sexually is counted the same as committing adultery. We also know from the context of the passage that both of these things are considered serious sins. So this natural tendency that men have is something they must fight every day.
And over the past 50 years or so, this battle in their minds has become almost minute-by-minute combat which they can't escape, often even in our churches!
We also know that God tells us in His Word that we are to love others (Matthew 22:39). If I would ask you what loving someone looks like, you would probably mention doing something special for them or being nice to them. And this is a part of love, for sure. But let's leave the status quo definition of love behind for a moment.
Couldn't we women also show love by keeping ourselves properly covered? Dressing modestly is truly an act of genuine love, encouragement, and protection for all men who see us, especially for our Christian brothers in the Lord.
For some reason I have not quite ever been able to understand, we Christian women have just seemed to completely forgotten that God calls us to modesty and that He does so for a reason– to protect us and to protect the hearts and minds of the men around us.
Our love for God and our obedience to His Word should be an even more important reason for us to obey Him in this area. And here is what I have found out– what we wear is just the first step in demonstrating modesty. The true heart of modesty is humility and grace. Think of it like this– when we dress immodestly we draw attention to ourselves. When we dress (and act) modestly, we are much more likely to draw people's eyes towards Jesus instead of distracting them with our outward appearance.
Perhaps it is not you who dresses immodestly but you have allowed your daughter to dress in such a way. I never cease to be amazed at what Christian parents allow their daughters to wear. Parents who I know genuinely love the Lord and have a wonderful testimony, otherwise.
Inevitably, when you have this modesty question, some woman will loftily announce that she can't be held responsible for a man's mind and where it goes.
Yes, that is true. He has a responsibility to turn his eyes away. But how loving and kind it is to dress in such a way that men do not have to do that when they look at us!
So back to the original question– what if no one is looking at me, anyway? What does it really matter if my shirt is too low or my skirt too short?

This is a pretty relevant question, because as women head into mid-life, they sometimes grow a little panicky in all the life changes. And in a reaction to that panic can sometimes dress in ways that are slightly more immodest or not age appropriate. And, honestly, I can understand why. This time of a life is a really strange place to land as a woman, and everything feels topsy-turvy. But we still need to dress modestly.
Let's go to Titus 2:3-5 to find out why–
the older women likewise, that they be reverent in behavior, not slanderers, not given to much wine, teachers of good things— 4 that they admonish the young women to love their husbands, to love their children, 5 to be discreet, chaste, homemakers, good, obedient to their own husbands, that the word of God may not be blasphemed.
It would seem pretty clear from these verses that we have an obligation to dress modestly for the sake of the younger women around us. We need to be the example they are to follow. That is our responsibility as we grow older. We never get to stop caring. We always need to be intentional about what we wear.
Now, I admit dressing modestly can be extremely difficult for all of us women–whatever our age–for a number of reasons–
1) We won't fit in with those around us. A really good example of this is if you are a young woman on the beach. If you aren't wearing a bikini, you almost stand out like a sore thumb. You don't quite fit in with the crowd. Which is actually exactly what we are supposed to do — not look like the world– but it can be a bit uncomfortable and we have to be willing to part from the crowd. And that is never fun.
2) We can't find modest clothes to buy. I have found this one to be especially challenging. It seems that fashion has dictated that cleavage is in and modesty is out. It is downright difficult to find a shirt that doesn't slink its way down in the course of the day or give a full view if you bend over. And let's be honest– most of us don't want to live in polos or turtlenecks. But should we be sacrificing our modesty for that cute shirt? I am especially challenged as I write this, because I am ashamed to admit that I have made some exceptions for some "cute" shirts.
Is there ever a reason that we can in good conscience be immodest? Like is it okay on your wedding day? Or at a beach where no one knows you?
Answer this question: Are there men there?
If there are men there, then the answer is always no. There is, however, one glorious exception– we can be as immodest as we want with our own husbands! No modesty is necessary in the bedroom!
This has got to be one of the most confusing times there has ever been to live out our Christianity. We are told conflicting opinions about almost every topic. Modesty is no exception. But let's stop listening to the placating excuses for why we can dress the way we want and let's start turning our eyes to God's Word, where we not only find the clear command that we need to be modest, but also find out why.
If you are in the habit of wearing low shirts, short skirts and shorts, tight yoga pants, or immodest swimwear, may I challenge you to do your own study of God's Word in this area of modesty? Let's stop following the crowd and drawing attention to ourselves and, instead, turn our focus towards pleasing God in this area of our lives.