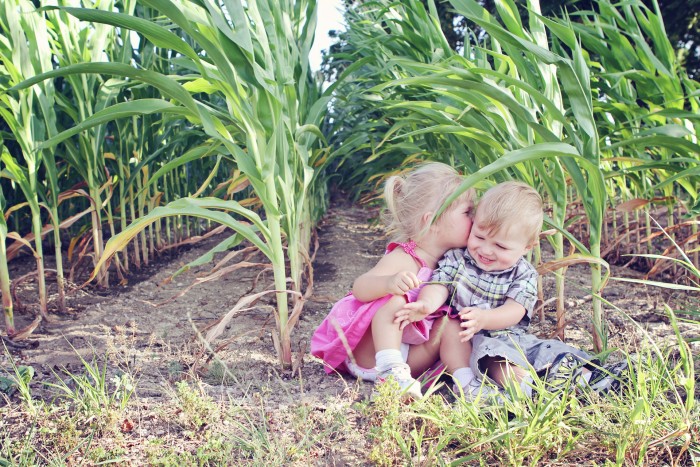 The other night my daughter was babysitting a one year old. The adorable little girl came into our home, looked around, and made herself at home. She smiled at all of us, started eating the dinner that was being fed to her, and was content. It led to a conversation at our dinner table about how little children can just come into a strange home and feel right at home and how we, as adults, can't do that. It got me thinking about a few things we can learn from children who are blissfully unaware of all of the social implications of their actions–
1)  No pretensions.  Have you ever talked with a little child? They are who they are. They are not strutting around pretending to be someone they are not. There is no wondering if the child is upset or happy or angry. We always know, don't we? There hasn't been years of wall-building and hypocrisy to dig our way through. While I am not suggesting it is healthy to express our emotions at every opportunity, I am suggesting that I think this world and our churches would benefit greatly if we would stop trying to impress one another. So many of us have built these thick walls around our hearts and lives. What would happen if we would tear our walls down and get real?
2) Live in the Moment. Have you ever seen a little guy dance to a tune that was playing? It is a joy to see the little legs bouncing up and down, as they try to move to the beat. But somewhere along the way, we forget to dance. We forget to enjoy the moment. We get wrapped up in taking kids to soccer, in paying the bills, in doing the housework. You know the old saying–Stop and smell the roses? Perhaps we should do that more often in life. Just stop and enjoy the moment. Enjoy watching the birds in your backyard. Enjoy petting your dog for a moment.  Watch your child chase butterflies and hunt bugs. Stop and really watch your husband wrestling with the kids. Grab a hand and dance joyfully to the song playing. These are beautiful moments the Lord gives us. Let's not take them for granted. Those fleeting moments are what make up  the tapestry of our vaporous lives.
3) Eat until your full. Children do not continue to stuff themselves after they are full.  They only eat when they are hungry.  They obey the mechanism that God so intelligently designed and when their bellies feel hungry, they eat. And when they feel full, they stop eating. Somewhere along the way, many of us have stopped obeying that mechanism. It's breakfast time? Then I have to eat, even if I am not hungry. I am at a party with a table full of delicious food? I have to try some, even if I just ate a complete meal before I came. I wonder what would happen if, as adults, we continued to obey our hungry and full signals?
4) Don't Let the Fear of Others' Opinions Rule You.  Some of my favorite "mommy" moments were when I could get my babies to start giggling. They would give this big belly laugh, filling my heart with pure joy. They didn't worry what anyone was thinking about them.  They didn't worry about if they were cool or look around, wondering if someone noticed that they "snorted". Because it didn't matter.  They were having fun! So often, we let the fear of others' reactions dominate our choices. While I understand that we do need to be concerned about others and about our Christian testimony, sometimes we may be concerned about unimportant things. Does it really matter if the neighbor thinks you are crazy for catching fireflies at dusk? Does it really matter if you play a game and people make fun of how you run (personal experience on that one!)? Does it really matter if you fall on the ice? Or if your hair gets wet?  So often we let the fear of people's opinions and reactions keep us from enjoying our lives.
5) Be okay with the way God made you. Ever see a baby wear make-up? Or get plastic surgery?   So, let's be honest. If you are like me–aging quickly–you are not feeling so adorable. Many of us won't even leave the house without make-up. But why not? Why do we feel the need to have something on our faces to face the public? Why do so many feel the need to enlarge or reduce areas of their body through plastic surgery? Why isn't the way God made us good enough? Instead of being grateful for the incredible body God designed, we complain that our noses are too large, our hair is too curly, our legs are too short, our hips, too narrow or too wide. But children are not conscious of this yet. They just are.  Sometimes I wish we could appreciate the amazing body we have been given without the constant attitude of criticism that almost every woman (and man??) feels when they look in the mirror.
Unfortunately, real life takes its toll and, sooner rather than later, we all learn some pretty hard lessons. People can't be trusted. The way I look isn't good enough. You know the dialogue. But perhaps we can learn just a few things from the children in our lives.
Just a thought for today…