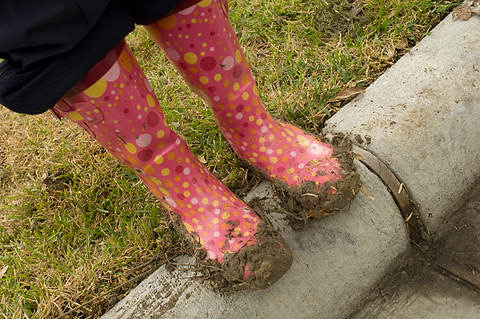 I could feel the socks sinking further down into my boots with each step. About five minutes into my walk, my socks were big lumps underneath my feet. Great. I looked up and saw a bench in the distance and decided I would sit down and try to pull them up as tightly as you can pull ankle socks up, all the while reminding myself that this is exactly why you don't wear ankle socks with boots.
I got them back to their original positions and tentatively took a few steps. I thought I should be good for a few minutes, but I quickly realized that I was wrong. They were back in their undesired position before I could walk even a half minute down the path.
At this point I had a decision to make. I had three options. I could–
A) Remove the sock.
B) Let them remain uncomfortably wadded at the bottom of my boots.
C) Just stay where I was for the remainder of my days.
Obviously, "C" was not a viable option– although many of us take this option in real-life scenarios, which I'll explain if you'll just stay with me a few more minutes here. But back to my options–  I was left with A or B. The ground was wet and muddy, with nowhere to sit or lean in sight, making option A a bit perilous, so I settled for option B.
Interestingly enough, by the time I was approaching my house, I realized that I had totally forgotten about the discomfort. My thoughts had taken me elsewhere and I could enjoy the walk even with lumps in my boots.
And I realized that it's ok. It is ok to walk and not have everything be "just right".
I have brought this thought process with me to many challenges in my life. It has to be just right for me to work at losing weight, to write a book, to have my quiet time. We all do it. We won't leave a miserable job until we are forced to, go to church until our spouse joins us, or stick to a budget until it feels like we have enough money. We are waiting for that person to apologize before we forgive, we are waiting for our families to be perfect, before we will change our own attitudes, and we are waiting for our kids to like us, before we will put discipline into place. The interesting thing is that the thing we are waiting to do is often something that would improve our life tremendously.
And I wonder. Is "just right" a trap to keep us from pleasing our heavenly father and living the best life possible while here on earth? Does it keep us stymied in a place of discontent and dissatisfaction, while we wait for our circumstances to come to a point where the thing we want to do will be easy?
How stuck we get in wrong thinking.
This is the time when many of us are starting to think of New Year's Resolutions and beginning over again. If we are young we enthusiastically set new goals. If middle-age has set in we are, most likely, remembering the days when we used to do that and have caved in to the futility of goal-setting.
But perhaps this is the year. This could be the year that you lose the weight, develop a regular quiet time or read through the Bible (I can help with that here!) or change jobs. Perhaps this is the year that you will create a budget and stick to it. Or organize your photos. Or start cooking for your family. Or forgive.
I don't know what you are waiting to do. But what I do know is that if you wait for "just right" it will never come. I know this because I've been waiting for it for a long time and just when one thing improves another thing rears its ugly head, demanding attention. That is the way of life. We cannot allow it to keep us from growing as a Christian or as a person. We cannot choose Option C, remaining where we are forever. We'd like to choose that because it is comfortable there. The other options take work and we don't want to work. But Option C isn't really an option, is it? Because there is no standing still in life. If we aren't moving forward, then we are sliding backwards.
Perhaps Paul says it best–
Brethren, I do not count myself to have apprehended; but one thing I do, forgetting those things which are behind and reaching forward to those things which are ahead, I press toward the goal for the prize of the upward call of God in Christ Jesus. Therefore let us, as many as are mature, have this mind; and if in anything you think otherwise, God will reveal even this to you.
Here Paul is talking about moving forward in maturing in Christ Jesus. But many of our goals will help us do that, won't they? Controlling our appetites, teaching our children to obey, forgiving, being organized or sticking to a budget (which shows that we are a good steward of our material possessions and time) are all good steps to take as we strive to grow as believers.
I think my walk helped me realize that I can still move forward with a goal, even if everything isn't lined up just the way I think it should be. Sure, my goal or the change I want to make may require a little more creativity, but that's okay! In fact, it may even be more rewarding that way. Let's not give up trying to change. Let's not swallow the lie that things will never change. With some perseverance, through the work of the Holy Spirit, we can change. So get busy making a few goals. Go. Do it now.
If you enjoyed this post, would you consider sharing it on your Facebook page or Twitter feed? I do not take in any income or spend any marketing dollars for Growing4Life, but rely solely on my readers to spread the word. Thank you!