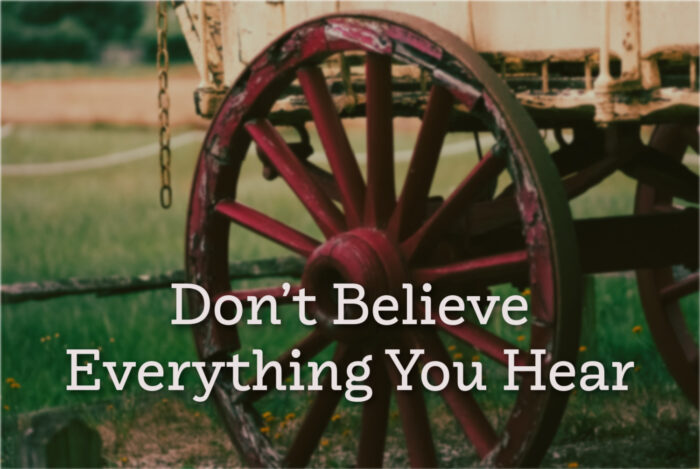 A few months ago I happened upon a historical documentary of the west. I had never really been all that interested in the west and how it was "won" but, for whatever reason, I turned on Part 1 and watched. The whole thing was very fascinating and I just kept watching until I had watched all of the parts.
One of the things that was disappointing was that they highlighted some missionaries but spoke very negatively about them. In fact, in listening to the series, one would have come away with the idea that they did more harm than good. At first, I was disgusted that this couple would harm the name of Christ. And then I began to wonder: Was this true? A little niggling doubt started to grow in my mind. Was this documentary actually telling the truth?
The series quoted a woman by the name of Catherine Sager quite a bit in the one part of the series, as she described her experience going west as a child in a Conestoga Wagon. She wrote a journal that has been published and I found it on Amazon. I decided to read it.
What I found in her journal was not only a vivid account of her experience going west but also a wonderful account of her time as an adopted daughter of the missionaries that were so maligned by the producers in this documentary.
In doing more research, I realized that, while the missionaries certainly didn't do everything right, they did do much of which was to be commended, including taking in seven orphans who needed a home and loving and caring for them like they were their own.
A few years after these orphans were settled in their new home, a greedy man looking for trouble showed up at their mission station and started spreading lies about them.
Within a few weeks, the couple, along with three of the orphans, were dead. One of the worst massacres in history was started by lies. Just sheer lies.
They didn't mention this on the series. I found this out through reading Catherine Sager's diary and a letter to her uncle that she wrote as an adult. Isn't it interesting how they failed to mention this but, rather, laid the blame on the methods of the missionaries?
As I considered the current agenda regarding Native Americans, I realized that this series was promoting said agenda. Making the Indians look purely like victims and the white man as evil promoted the agenda. And, while many white men were not pure in motives and were quite wicked, so, too, were the Indians, with their satanic religion and disregard for human life.
All men are depraved. Sinners from conception. What happened in the west is what we should expect from the unregenerate.
But there were true believers who went west with the right motives. We can't call all men of a certain color (whether white or red, black or brown) evil just because of their skin color. What an incredibly evil and manipulative thing to do.
So what is my point? (You know I have one!)
I have been convinced more and more that we cannot believe what we hear. There are so many agendas out there that we must always read, listen, and watch everything with our guards up– no matter which side it is coming from.
While I learned a lot of interesting facts from that series on the west, I recognized fairly early on that they were only sharing the facts that they wanted me to hear. They made the choice to share only the bad (and no good) about missionaries who went west to share the Gospel. They chose to make certain groups victims and certain groups perpetrators, without giving the dynamics, nuances, and facts surrounding the happenings.
This is no different than the news we watch at night or the best seller books we read or the TV show or movie that slithers its way into our homes by calling itself "entertainment". It is also no different for the many things that are labeled "Christian" and "right". Few of these things are just stand alone offerings to provide us with something to do with our time. Most have a specific agenda in what they are teaching. There is a very specific way they are trying to change the culture.
Don't believe me?
I guess you don't have to. But this is backed up by facts, quotes, and reality so you really can't say you don't believe me honestly until you do a little research on your own.
There are many, many lies and agendas that are demanding our attention and getting "our danders" up. (And so they should!) But don't be manipulated by what you hear. Don't let it steal your peace. And make sure you have all of the facts before you make a decision about where you stand on any given situation or issue.
And, more than ever, we need to understand the true treasure that the Word of God is. As we begin to understand the plethora of lies and agendas that surround us and come at us from every avenue, including both secular and sacred, we begin to understand the value of a book that holds within its pages absolute truth; a true and loving gift from our Heavenly Father.
Only there can we trust everything written. Only there will we find an explanation for what is happening in the world around us. Only there do we find the puzzle pieces that help us start putting the puzzle of the future together in a way that makes sense. Only there do we come face to face with our sin and find the way to a glorious reconciliation with God. And only there do we find the promises of peace, joy, and love that God offers to those that are His, no matter what circumstances we face.
We are sinners. Jesus died for sinners. He rose again and lives today, caring for and protecting those who love Him and have believed on Him for salvation. And, in that, there is hope, no matter how many lies and agendas swirl about us.
As for God, His way is perfect;
The word of the Lord is [a]proven;
He is a shield to all who trust in Him.
Psalm 18:30
For God so loved the world that He gave His only begotten Son, that whoever believes in Him should not perish but have everlasting life.
John 3:16
For the word of God is living and powerful, and sharper than any two-edged sword, piercing even to the division of soul and spirit, and of joints and marrow, and is a discerner of the thoughts and intents of the heart.
Hebrews 4:12