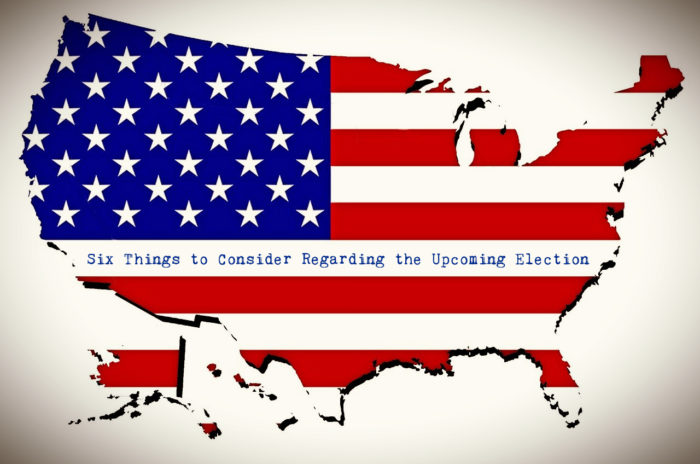 It has been a strange whirlwind of a year and it is culminating with perhaps the single most important election in American history. It seems as if the whole world is watching and waiting to see the outcome and what will happen afterwards. We who live in America know that change is brewing and we feel unsettled. We realize that we are probably never going back to the way things were, no matter who wins this election.
Most posts you read regarding the upcoming election express concern about the issues facing the culture and then encourage you to be sure and vote. I am actually not going to focus on that, as I am sure you have read plenty regarding these things. I do encourage you to search the scriptures before you cast your vote. Do not do so lightly or without prayer.
But let's talk about the election beyond the obvious. Beyond the aspect of voting. Let's consider some things that are even more important–
1. God's plan may be (and, in fact, probably is) different than our plan.
Have you said the following words yet this year: "I just want my old life back" or "When will things just go back to normal?"
Oh, how many of us yearn to go back to the old America. She's been going a very wrong direction for a long, long time now but, still, she was comfortable. She felt safe. She felt secure.
That has been swept away and we'd like nothing more than to just get all of that back again. But God may have a totally different plan for this country. Remember, His plan always supersedes our own plans. While there is nothing wrong with participation in human government whether it's through voting or actually serving in government, we must remember that God's plan is what is most important.
As Christians, our priority is not saving America. It is glorifying God and submitting to His will.
Not only is God's plan different, but it's also actually greater than our plan.
I am sure many Christians throughout history have wondered what in the world God was doing? Many were sent to gulags and concentration camps; they were imprisoned; they were displaced; they were separated from their families; they became sick and died; And many were even martyred for their faith. These things are not just from history. They are actually still happening all over the world today. Christians go through terrible trials.
This would not be our plan.
And yet, we are told in scripture that God's ways are perfect (Psalm 18:30). This means that His plans are better and higher than our plans.
2. We aren't here to fix the culture.
One of the things that has disturbed me about much of the talk that is going on in Christian circles today is this push to fix the culture. We are told by certain (trusted) men that our job as Christians is to make the world a better place. Many are saying that we are here to bring the Kingdom of God to earth. This idea seems to take on more and more steam almost every day.
But I challenge you to find that idea in scripture.
Oh, you may find a verse or two that could be stretched to fit if they are ripped out of context. But if you study God's Kingdom from Genesis to Revelation using a consistent hermeneutic, you will find that there is no possible way this could be true. I hope to write more about this some day. It's a pretty big deal.
For now, let's just be clear: The Bible teaches that upon our salvation, our focus is taken off this world and turned to things above (Colossians 3:2). Rather than working to bring perfection here to earth, we are much more concerned with sharing the Gospel so that others can join us in heaven someday (Matthew 28:19-20). Nowhere does it say or even imply that Christians are here on this earth to fix the culture.
3. There is nothing new under the sun.
No matter what happens, we know that people have experienced something similar before us. Countries have been taken over by the likes of Hitler and Stalin and Pol Pot. Communism has destroyed freedom all over the world. Real people like you and like me have lived under these regimes. They have struggled and they have suffered.
And, yet, somehow, Christians from the past and, even in these countries today, experience peace and joy. They were (and are) given the grace they need when they need it. And, so, we, too, will be given the grace to go through whatever is ahead (2 Corinthians 12:9). Another thing to remember is that, as the world grows darker, the light of Jesus Christ shines brighter. What abundant opportunities may lie ahead for us to share the Good News!
4. Don't believe everything you hear.

I think it is clear that– whether we are discussing a virus, the riots, or the election– that there is a narrative that the world-at-large is determined we will believe. Those bringing us the news, the tech companies controlling social media, and the government would like nothing better than that you just eat what they feed you.
It is important that we have a healthy dose of skepticism regarding any story we hear. We must carefully think through and do some investigation before just swallowing–or, even worse yet, passing along–a story we've heard (no matter what side of the political fence it happens to be on).
We need to run all through the grid of scripture and test to see if these things are true, rather than simply believe what we are told. Why do I include this here? Because it is so important that we don't let the power of the narrative to cause us to stop thinking. We have been given a brain to think and to reason. Don't stop using it simply because the crowd has stopped using theirs.
Just because the majority believes something doesn't make it true.
5. Remember that we know how this ends.
We do not have a specific timeline of end time events. But we can see the signs.
And what we do know, according to Revelation 13, is that someday there will be a one-world government, one-world economy, and a one-world religion. Now think with me for a moment regarding what will have to take place before this scenario can happen?
We can make some fairly certain assumptions–
America will submit to a global government.
The world will be cashless.
The false Christianity of this age will join with the rest of the world in its worship of the antichrist.
As we watch and wait, we can see how these things are forming. Again, as I've said so often before, we can't know a timeline. But we do know what's coming and what is happening is certainly setting the stage for these things. We are living in very exciting times!
6. We can only control our actions and reactions.
We can't control who our friend or family member votes for. We can't control the outcome of the election. We can't control what happens after the election. We can't even control if our vote counts.
But we can control how we treat others who do not agree with us. We can control our words. Our behavior. Our attitudes.
And so that is what we must do.
This means showing the lost and dying world that we are transformed because of Christ. This means not complaining if things don't go as we desire. It means not heatedly arguing with people who don't agree with us. It means trusting God and showing the world the peace and joy that He gives, despite our fears for the future. It means loving our enemies.
And, in responding in these humanly unnatural ways, we will point people to Christ and give Him the honor and glory. For it is He who has changed us and made these responses possible.
________________________________________
So pray and then vote. But let us not feel defeated if the outcome doesn't go our way–nor feel too victorious if it does. The bottom line is that the nations are in the hands of the Lord (Psalm 47:8) and He's controlling the world's stage.
God is our refuge and strength. He's a stronghold in time of trouble. And he's not going to let us go now. We are His. So hang on to the anchor of His Word and be strong and courageous.