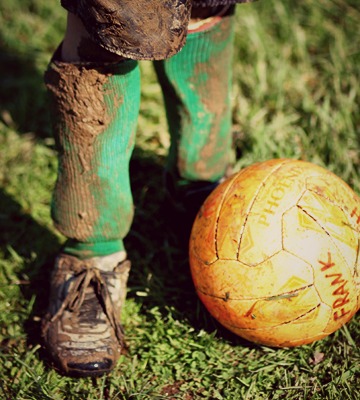 When my daughter has played soccer on a rainy day, she has ended up quite muddy herself. She slides in the mud. She runs in the mud. The mud flies as she passes the ball. It is impossible for her to keep clean. Now, let's say I tell her to take a shower after the game to clean herself up and she tells me she already is clean. Would I believe her? Of course not. She has been playing in the mud and the mud is splattered on her arms, face, legs, back, not to mention covering her shoes. She is obviously in need of a shower.
So why is it that so many Christians want to play in the mud and yet call themselves clean? They make themselves dirty with the things of this world. Ungodly music. Violent movies. Bad Language. Pornography. Sitcoms that mock God and the family.  TV shows filled with adultery, hatred, and lies.  Tobacco, drug, and alcohol abuse. Immodest clothing.  I could go on and on. Somehow Christians have fooled themselves into thinking that they can be clean while playing in the mud.
But it is impossible to be clean while playing in the mud. It goes against all logic. You cannot be clean and pure before God, if your life is filled with the unholy and unclean. If you want to live in the world and do all that the world does and be like the world then that is your choice. But you may want to examine yourself to see if you are truly in the faith. Just because you say you are clean doesn't mean you are. Only God knows. But if you are spending your life in the mud, it may be a sign that you need a shower.
II Corinthians 13:5; I John 2:15