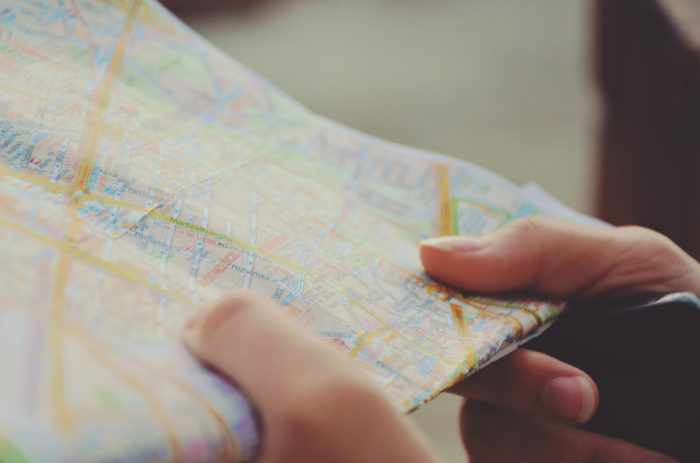 We were on our way to the beach. Attached to our truck was our 5th wheel camper. My husband decided to go a different way he had heard about from one of his customers–supposedly a more scenic route. We had traveled it twice before but were not really all that familiar with it. We did not have a map along. We had a GPS along. He figured he could figure it out with the little machine that talks.
Wrong.
As we turned off of our much traveled path, I expressed my hesitancy. I was comforted by his assurances that he would definitely be able to figure it out. However, as we traveled along the road, the landmarks became increasingly unfamiliar. We were drawn further and further into major suburbia– not the place you want to be with a 5th wheel attached to your truck!
The problem came when the GPS did not have the same directions in mind that my husband did. The GPS did not know we had a camper attached and was taking us through areas we did not really want to go; areas in which it was extremely difficult to maneuver with a camper attached to you.
Finally, we stopped and bought a map and tried to figure it out. In the meantime, it started to rain–and not just a few drops. It was a downpour of the most severe kind–the kind of rain that it's hard enough to get where you need to go when you know where you're going, much less when you have no idea where you are going! Put a couple of kids in the backseat with their accompanying comments, and you can start to imagine the situation. It was not good. (And we didn't handle it real well…but we won't discuss that here!)
We did eventually figure it out. After we had crossed the bridge over the Delaware River into familiar territory, I took a close look at the map to see where we had gone wrong. From that perspective I could see exactly what we had done and what the GPS was thinking.  And, we realized, that at one point, had we listened to the GPS, it would have gotten us out of the mess we were in. But we no longer trusted the little talking machine to guide us.
Sometimes it would be nice to have a map of our lives. From that perspective we could see the roads, rivers, mountains, and curves. We could see that, while we may have taken a detour, we are at least headed in the right direction. But, we don't have a map, and just like we got stuck in the mire of traffic, rain, and confusion on our way to the beach, so we get stuck in the emotion, sin, and confusion in our own lives. Sometimes we feel like we have no idea where we are going. But God knows. He knows exactly the path in which He will lead us through our lives. He knows the sinful choices we will make and He knows the godly choices we will make. He knows the parents, the kids, the siblings, and the friends we will have before we are even born. He knows the jobs we will hold. He knows the vacations we will take. He knows the tragedies we will experience and He knows the moments of joy we will experience. Nothing is outside the border of God's map of our lives. He knows what will happen even before it happens.
I don't know about you, but I find that comforting. Sometimes when I am facing the unknown and my life is full of question marks, it is good to know that nothing is a question mark to God. If we have acknowledged we are sinners and saved by grace alone, if we are living according to His Word and commandments, and truly allowing Him to direct our paths, we can rest assured knowing that He will be there to guide us in every step. His word tells us that there is no place we can go that He won't be with us. And His forgiveness awaits us when we cave to that familiar sin. What an amazing comfort to those of us who truly love the God who saved us!
Proverbs 3:5-6 Trust in the LORD with all your heart, And lean not on your own understanding; In all your ways acknowledge Him, And He shall direct your paths.
Romans 8:38  For I am persuaded that neither death nor life, nor angels nor principalities nor powers, nor things present nor things to come, nor height nor depth, nor any other created thing, shall be able to separate us from the love of God which is in Christ Jesus our Lord.
Ephesians 1: 6-8 to the praise of the glory of His grace, by which He made us accepted in the Beloved.  In Him we have redemption through His blood, the forgiveness of sins, according to the riches of His grace which He made to abound toward us in all wisdom and prudence,