A few years ago, God brought along a new friend who became such an encouragement to me since I've known her. Her uplifting words and passion to share the Gospel have been inspiring. As we got to know one another, I started hearing about her life and how the Lord saved her. A few months ago, I asked her if she'd be willing to share her story here. I believe you will be much encouraged by what she shares. God is so faithful. And He changes lives!

Here is Tina's story–
As I reflect back through the years of my testimony, I am amazed at the work the Lord has and continues to do in my life. Nothing of what I share has anything to do with my efforts or doing, it is all Him, Our Lord. He has redeemed me and changed my life.
I was born in Toronto, Ontario, the city where my parents went to elope. My birth dad was known as a drug addict and an alcoholic. Due to his addictions, he was abusive to my mother. When I was five years old, my mother took my younger brother and me and returned to the states.
She did divorce my birth dad. We lived for a short period of time with her oldest brother and his wife. It wasn't too long before she met another man and, within the year, they were married.
Four days after their wedding, we were traveling home from the grocery store when an oncoming car, holding four drunk ladies who had just left a bar, collided with our vehicle. I was thrown from the car and Frank (my mom's new husband) was badly injured but my mom and younger brother were both killed in that accident.
I was unconscious for days with a head injury. Perhaps some might have said it was a miracle that I survived and I have oftentimes looked back and wondered why God spared my life. I have questioned at times why my mom and brother died and I was spared. If there is one thing that probably has been in the back of my mind it is this question: Were they saved? I have come to a place of peace in my understanding that these answers will remain unanswered until I am with the Lord. But, through it all, God has shown me that He is good in and through it all.
I awoke in the hospital with my aunt by my bedside. Naturally, as a child would, I cried out for my mom and it was my aunt who had to share with me that my mom had died. I then cried out for my brother and she told me that he had also died. I remember it so clearly that day–my aunt holding me as I just cried.
My mom, Darlene, was 26 years old and 3 months pregnant and my brother, Stephen, was 5. I was 6 years old at this time. I went home days later with my Aunt and Uncle. I remember her telling me later in life how many people were praying for me. No one knew the effects this would have on a young girl. How does a young child who just lost her family cope?
I can reflect back and remember vividly that I adjusted quickly. I took to my aunt and uncle fondly, but especially my aunt as she was very loving and tender with me. After a short time of living with them, I remember running out to the kitchen and asking her if I could call her Mom. God was already at work in my heart, and, yes, I would surely say He was answering prayers.
The first time I ever heard about Jesus was through my aunt. I remember her sharing John 3:16 with me:
For God so loved the world that He gave His one and only begotten Son. That whosoever believes in Him, will not perish but have everlasting life.
That verse resonated deeply within me as a young child who so desperately wanted to be loved. I would often think about God's love. Little did I understand then the full extent of what that love meant but I understood that God loved me. I started attending church and would continue hearing more about Jesus and how He died on the cross for my sins. I then started to understand that I was a sinner. That Jesus had to die for my sins. It was something I so easily understood and believed. I wanted Jesus in my life.
At the age of 7, I was in my bedroom playing but kept thinking about John 3:16. I understood I was a sinner and that Jesus had to die for my sins. He died for me. I believed He died on the cross, was buried and rose again. I ran out to my aunt and excitedly told her I want Jesus to live within me.
A few years later my aunt and uncle adopted me. God had taken this little girl and given her a new family. I will always remember my birth mom, Darlene, and am very thankful for her. As I will always remember my birth dad, Doug. Much of what I struggled with throughout growing up are my questions of why my birth dad did not love me as a father should. I will share more about where God has brought me to with my relationship with Doug. But I am truly thankful for the family God had placed me in.
Moving ahead to my teenage years, I look back and can reflect much. My friendships where not always the best influences for my life. I made some really bad decisions and choices. If you were to know me then, I was very much living in the world and much like the world. My life did not resemble Christ. It pains me to see and know the person I was. Oh, I believed In Jesus. I went to church, was a part of youth group and active in it. I would even talk to my friends about God and share with them about what Jesus had done. But I lived two different lives. I wanted the world and I wanted Christ. But, as I later learned, you cannot serve two masters. Matthew 6:24 says—
No one can serve two masters, for either he will hate the one and love the other, or else he will hold to the one, and despise the other. You cannot serve God and mammon.
As I continued down the path I was on, which include drinking and vulgar language, I hit one of the lowest points in my life. When I was 15, I was raped by a 21 year old man. I held onto guilt and blamed myself for what had happened. This led me to make another poor choice which was an eating disorder.
As I can look back and realize now, I really was struggling with a sense of control. I had no control of what took place with my birth dad being abusive to my mom. I had no control of the accident that led to the death of my mom and brother. I had no control of why my birth dad did not make any effort to be involved in my life. And I had no control of what took place in my life when I was raped. Instead of turning to God and repenting of pride and surrendering my life to Him; instead of allowing God to take all of what I was holding onto, I turned further into despair. I wanted to be able to control one aspect in my life that no one could take from me. Oh, how foolish I was as I gave into sin and lived in it.
At the age of 19, I attended Bob Jones University which is where I met my future husband. I don't remember exactly the year or day, but there was a sermon that was preached on hell. I listened to that sermon and was terrified. I went back to my dorm that evening and was examining where I was before God. I realized the depravity of where my sin led me, which was death, a total separation from God. I realized that not only would I be separated from God, but that I would take the wrath of God for my sins for eternity. I questioned: Was I truly saved?
The next day I had shared with Bruce, my future husband, what I had been thinking through. I wanted to surrender my life to Christ. I knew I needed to repent of my ways. It was only through faith of believing what Christ had done for me on that cross. I truly wanted Christ and nothing more. Ephesians 2:8-9 says:
For by grace you have been saved, through faith and this is not from yourselves. It is the gift of God. Not by works, so that no one can boast.
I was then baptized a few weeks after, as I wanted to make a profession of my faith. God started to chip away and He was pruning me to be more like Christ.
The years that followed led me to marriage and starting a family of our own. I was growing in my walk with the Lord but there was still a hidden sin in my life that I was holding onto. It was my eating disorder and an unforgiving heart towards Doug. I carried the weight of the eating disorder for 17 years. At the age of 32, God broke me and opened my eyes to the sin I had been holding onto. I felt such shame and guilt. I realized I needed to repent of this very sin. I repented of it and it was only through God, who took that sinful desire from me. When temptation came, He gave me the strength to turn from it. There is not a day that I look back and desire to go back into that. My freedom is in Christ. Oh, how I am so thankful for the freedom I have from the bondage of sin. If there has been a verse that has been so profound to me now it is Galatians 2:20:
I have been crucified with Christ. It is no longer I who live, but Christ lives in me, and the life which I now live in the flesh I live by faith in the Son of God, who loved me and gave Himself for me.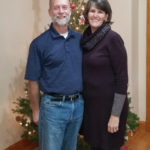 I can honestly say now that I desire nothing more than to surrender this life to the one who gave His life for me. I want to be the salt and light of Christ. I want to be a reflection of His love.
In the years moving forward God has brought much healing and growth to my life. One of the amazing things He has done in me is in opening my eyes and softening my heart towards my birth dad.
Doug was now living in a nursing home. I knew that I needed to see him. I was nervous as I did not know what to say. I prayed on that entire drive up to where he was, asking the Lord to help me to love and to forgive. When I saw Doug, my heart changed and, instead of anger, I looked at this man with compassion and forgiveness. It was the first time I could face Doug with love and not hate. In talking with him, I had the opportunity to share the Gospel with him. I left that day with a peace that only could come from God.
God is continuing to chip away areas in my life. He continues to prune and to refine. Every day I realize more and more of my dependency upon Him. I am so thankful for the freedom in Christ alone from sin that held me in bondage that led me to death. Oh, what joy, oh, what peace there is in our Lord.