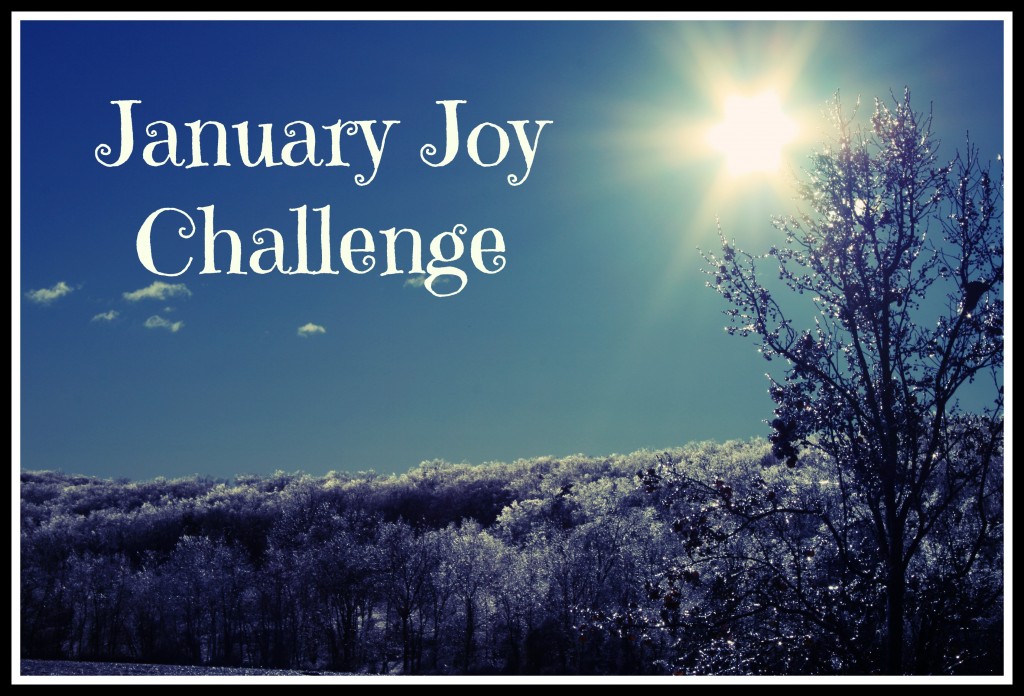 Happy New Year! Are you ready to begin our January Joy Challenge? Resolutions like eating right and exercising are beneficial for our physical bodies, but Paul tells us in I Timothy 4:8 that, while bodily exercise profits us a little, godliness is profitable for all things. I can only assume that joy is a part of godliness, since it is listed in Galatians 5:22 as one of the fruits of the spirit. Therefore, joy is an important part of a godly Christian life.
Is that enough to convince you to join me in the January Joy Challenge?
Tomorrow I will give some details about how this is all going to work. But for today–well, I have a confession to make.
Before we get started officially, I have to be honest. When I came up with the idea last month of having a Joy Challenge for all of us for the month of January, I hadn't given it an extended period of thought. I was just trying to think of a way to liven up the blog a bit and do something new.
Little did I know that the past two weeks would be so difficult for me emotionally. There were a few dynamics in my life that all came together at the same time and threw me onto a bit of a roller coaster ride (but I am not offering that as an excuse–simply an explanation). Suffice it to say, I have not been even slightly joyful. My poor family. I would wake up and think: today will be different. But then I'd fall right back into the pit of sadness and irritability. While I do occasionally get moody, I don't think that would be the first word that comes to mind when describing me, so this extended state of negative emotions is quite unusual for me.
Several times I contemplated somehow working my way out of the Joy Challenge. But I couldn't figure out how to back out gracefully. This hung over my head for the past week or so. I mean- honestly – how can you write about joy if you aren't even slightly joyful?
I shared this with my mom and she gave me some very wise counsel: You can–in fact, you need–to write the truth, no matter what you feel like.
A moment of epiphany. Yes, of course, she's right.
In fact, isn't that what I've been doing all along? Writing about areas in which I myself need to change and become more like Christ?  If only perfect people wrote blogs, there would be no blogs.
And so, my friends, it is with a very humble heart that I start up the January Joy Challenge. I have struggled in this area and am doing it for myself as much as for you.
I hope that you will join me.
P.S. I hope to have my new mini e-book Jumpstart to Joy ready for you in the next day or two. You can find out more details here. I will give a free copy to anyone who subscribes to the blog or who likes the Growing4Life page on Facebook. However, if you are already subscribed to my blog or a fan of the Facebook page, just let me know if you would like a copy. I will be happy to oblige :)