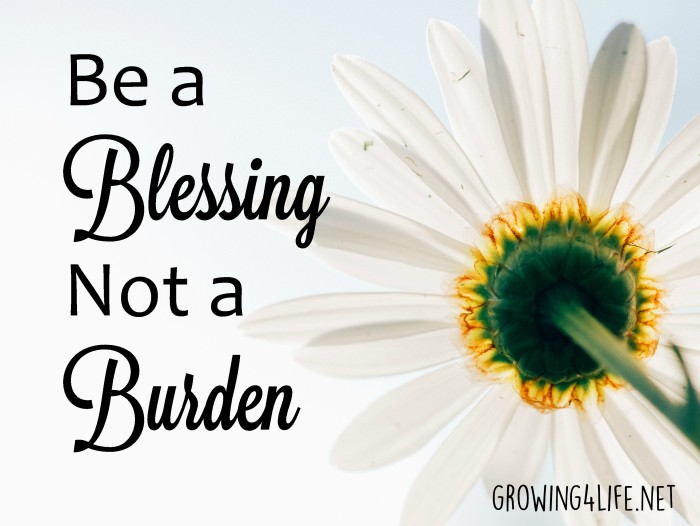 From the time my kids were small I sent them off with these words: "Be  a Blessing; not a Burden."  I am not sure where I came up with it.  I think I just made it up. But whether they were headed to Grandma's, a friend's house, or a soccer game, those were often my last words to them. Did they always listen to me? I highly doubt it. But, hopefully, it got them thinking about others.
I still say it every once in awhile. And it is actually good to say to myself, as well. Because if we are concentrating on being a blessing to others and making an effort at not being a burden to them, it changes how we interact with others completely.
For instance, if I want to be a blessing, I will be looking for ways to encourage those around me. When conversing with them, I will want to find out how they are, I will ask questions, and I will genuinely care. If I want to be a burden, I will only talk about myself – my opinions, my problems, my issues– and not let the other person get a word in edgewise.
If I want to be a blessing, when I see the other person rushing to be first in line, I will slow my gait instead of speeding up to beat them to the line. Or if someone is holding one item to check out and I have a cart full of groceries, it means allowing them to go ahead of me.
Sometimes being a blessing means just not saying something that might be true. Many of us do this frequently. Whether it be directly to someone or it be about them, we say lots of words that just don't need to be said. Who cares how her hair looks? Or what shirt she is wearing? Why not pray for their obvious budget or job problems instead of talk about them in a negative way? And sometimes it is not so much that we talk about it (how can we work together to help them financially at this time?) but how we talk about it (isn't that the third time she's worn that blouse this week? Can't they afford anything else?)
Being a burden happens when I think only of myself. If I just scurry around in my day thinking only about me, then I won't stop to ask someone how their weekend was, care about what they think about my "great" idea, or if they have any thoughts on the new plan I am putting in place. I won't care if my kids believe they are the center of the universe and act like it on the soccer field. I will stand for my personal rights at all times and never back down. I will buy what I want, wear what I want, go where I want, eat what I want. "No one can tell me what to do," will be my mantra.
In contrast, being a blessing is thinking about others. It includes things like: Asking those who will be affected how they feel about my new plan before just putting it into place; offering a drink to someone working hard in or outside my home; making my home a haven for anyone who visits; realizing my kids have faults,  admitting it, and dealing with it; talking it over with my spouse before buying a large item; saying please and thank you – instead of acting like I am entitled; giving in on the things that truly do not matter in the scope of life. The list could go on and on.
As I write this, my husband is blessing me by taking my girls to the school bus. This is the time of year he gets to sleep in- he works really hard and is up by 5 am most of the year- but he blesses me oftentimes in the winter by getting up early enough to take them, so I don't have to go out into the cold, icy air. It is a great start to my day and I am always so very thankful for his kindness.
And I wonder how I can be a blessing to someone today? How about you? Who can you bless today?
Philippians 2:3-4  Let nothing be done through selfish ambition or conceit, but in lowliness of mind let each esteem others better than himself. Let each of you look out not only for his own interests, but also for the interests of others.