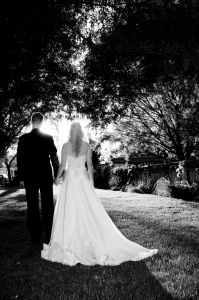 The following is a true story. I heard it firsthand from a friend who was involved in this wedding.  I do not know the bride, the groom, or any of their family or friends. I want to tell you this story because I think we Christians are totally unaware of the damage being done to the cause of Christ by our worldly weddings. Please note that, while I am sticking to the main points of the actual story, I have added a few extra details to make it read more like a story.
Once upon a time two Christian young people got engaged. They had a wonderful time planning their wedding and reception. They wanted to have a Christian wedding but they were also determined to include an open bar and dancing at their wedding. It was a celebration and they deserved to celebrate! Some frowned at their decision, but most kept their mouths shut. They didn't want to rain on anyone's parade. And, after all, what could a little drinking and dancing hurt?  Few people want to be labeled fuddy-duddy and closed-minded.
And so the beautiful day arrived.  The wedding took place in a little church and the ceremony was centered on the Bible's words regarding love and marriage. Afterwards, the group moved to the reception hall, where the typical drinking, dancing, and partying took place. This led to the inevitable tipsiness and garish jokes while they all danced unreservedly to the ungodly music playing in the background.
As this all went on, one family member – an unbeliever – sat there, stunned.  How was this any different than how he would act?  What difference did Christ even make? His family had been trying to reach him with the message of the gospel for years. But all of their hard work was ruined in the course of a few, short, worldly hours, where they showed themselves to be just like him.
Before he left that day, he shared his disillusionment and disappointment with a family member.  He was disgusted and no longer gave any seriousness to the gospel message.  If this is what Christianity was, it wasn't any different than what he had.  He loved people.  He gave money to good causes. He was kind to others. And he liked to party.  The only difference he saw Christianity making in the life of his family was to waste a few hours each week in church.  No, thank you.  And, with that, he left.
Did he ever change his mind about Christianity?  I have no idea.  But there is no question that great damage was done that day to the witness of that family for the cause of Christ.
How many other times has this happened?  Where unsaved family members sit there and wonder what in the world is the difference?  I think we would be very wise to consider the serious spiritual ramifications of including the world's partying traditions before making them a part of our very special celebrations.
I Corinthians 10:31 Therefore, whether you eat or drink, or whatever you do, do all to the glory of God.