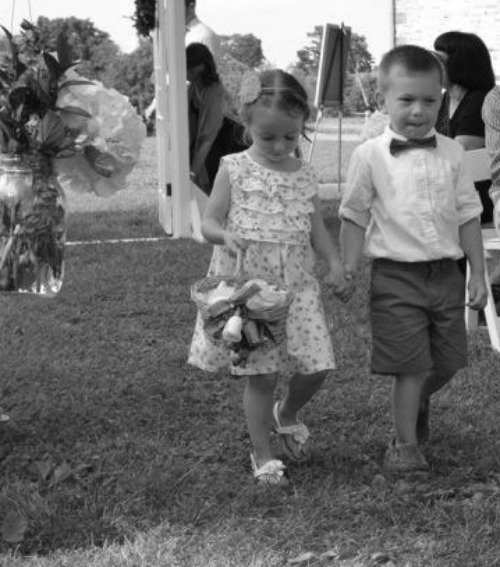 As most of you already know, Saturday was Wedding Day around here. Our oldest daughter was married on Saturday and is now happily honeymooning with her groom in the Caribbean.
Saturday dawned bright and clear. It all felt a little surreal, quite honestly. After a flurry of activity and many camera clicks, we were finally ready for the five o'clock ceremony.
I walked down the aisle with the best man, aware that all eyes were on me for that brief moment. I breathed a sigh of relief as I sat in my appointed seat and eyes were moved elsewhere.
I then watched my daughters walk down as maids of honor, followed by the bridesmaids and groomsmen.
And then came the children.
If you know my daughter, you know that she loves children. First came two beautiful nieces, their hands tightly holding the strings that were attached to the big, round balloons floating above their heads. And then came a handsome and very serious nephew, pulling a wagon which was supposed to hold two baby nieces. However, we heard a howl in the back and so only one adorable and wide-eyed baby girl was in that wagon.
And then came the official flower girl and ring-bearer. The ring-bearer was another nephew and the bride has been the flower girl's nanny since she was born. This charming couple was tightly holding hands. Meanwhile, the basket holding the white rose petals stayed filled to the brim. They carefully walked down the aisle. I thought she forgot about the rose petals, but when they got to the front, they dropped hands to go different directions and that is when she put her small hand into that basket and pulled out a handful of petals. And then another. And another. She just kept pulling out those petals and spreading them over the ground where the bride and groom would soon be standing.
I finally told her that it was probably enough and she dutifully moved to her position beside the maid of honor.
I then had the privilege of standing and turning, as all eyes turned towards the stunning bride. It was an overwhelming moment and the next hour flew by, as we listened to two of our favorite pastors in all the world present very helpful challenges not only to the couple, but to us, the witnesses.
It was a beautiful ceremony and reception and I am proud of all the thought and effort that my daughter put into making the evening a wonderful experience for all who attended. It was her hope– and ours– that it would be God-honoring, first and foremost, and also enjoyable. I hope that we accomplished that.
I heard later that the flower girl told her mother, very logically, that it wasn't possible to drop the petals before she let go of the ring-bearer's hand. Ah, the wisdom of children.
As I was thinking about her words this morning, I had to smile. You know, she may be on to something there.
How often do we try to hold on to our own dreams and desires and please God, too? It's like we want the best of both worlds. And, yet, it is absolutely impossible. We cannot totally experience the all-surpassing peace and joy that God promises us until we let go of our own desires. Of course, the most awesome thing of all is that when we do this, God changes us and fills our hearts with desires that please Him.
During the ceremony, one of the pastors talked about how God's purpose for marriage can only be accomplished if we die to ourselves. He then added that living for Christ can really only be done well if we die to ourselves.
Yes, that is exactly what I saw in the flower girl's actions. You can't really do what you have to do until your hands are free.
You have to love the simple lessons we can learn from children.
Now, I'd better get going. I have a ton of wedding clean-up to do :)