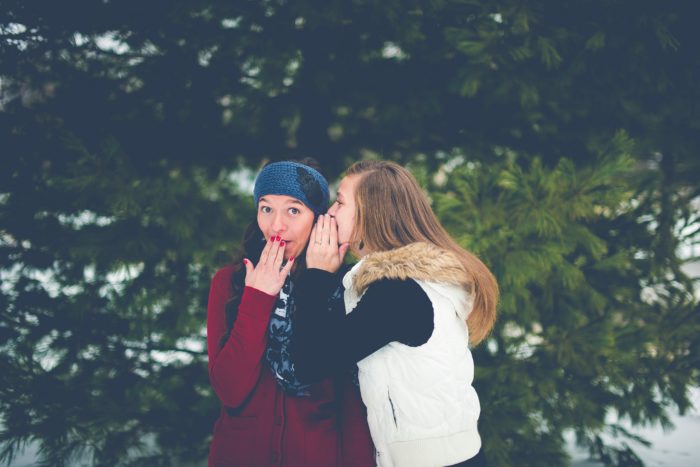 Have you ever had one of those conversations where you are talking about a TV show like it's really happening? The people, the situations, the happenings? I had one of those the other day and as I walked away from that conversation, I realized that we often have more loyalty for and kindness and grace towards people on TV.
I know it seems silly to even compare the two, since we are obviously personally affected by real people so that makes all the difference in the world, but it does seem sad that we can keep so level-headed and impartial when discussing TV friends and completely lose that when discussing real people.
Of course, we shouldn't really be discussing real people most of the time. Sure, there are instances where we need to work through a problem with a trusted, godly friend or mentor, but, overall, we should not be talking about people. Ephesians 4:29 says this: Let no corrupt word proceed out of your mouth, but what is good for necessary edification, that it may impart grace to the hearers.
But this is not a post about spreading or speaking gossip. It's a post about listening to gossip and our subsequent actions after we've heard it.
So many of us hear will listen to someone talk about someone and, instead of defending them or kindly asking them to stop, we will just jump right in and join the conversation. Or we will listen without speaking while making assumptions that will change our friendship with the person being spoken about. There is no grace. No kindness. No loyalty.
Or perhaps someone will talk about someone behind their back, telling you terrible things that person said about you. What do you do? Do you do what you should?
This happened to friends of ours. But let me first give some background. We had made a really, really tough decision after much prayer and agony. Because of the nature of the decision, there were many rumors flying around about us and lies told. We know of at least three specific lies that were told about us that made their way to our ears "through the grapevine".
But only one couple actually loved us enough to call us. The wife called and asked us specifically if we had said such-and-such about them. My heart sank when I realized that someone I had trusted had said such a vicious thing about us. But, even in my dismay, I realized that this couple–instead of believing the worst–loved us enough to confront us and ask us about it.
We lost a lot of friends through those swirls of rumors and accusations, but these two remain our friends to this day. They exemplified what true biblical love and friendship are. They didn't believe the worst about us, as seems to be the natural thing to do, but they bravely went right to the source. They cared enough to ask.
So what do we do when we hear gossip? Do we automatically believe it? Do we jump on the bandwagon and join the fun? Do we internalize it and allow it to create a cool distance with the person who has absolutely no idea what was said behind their back?
We have to be oh, so careful of this, don't we? So many of us who wouldn't ever be caught gossiping just aren't very good at listening to gossip.
So how should we listen to gossip? Let's see what scripture says–
First, we should view them as innocent until proven guilty. If there is a personal accusation involved, ask them lovingly and kindly if the words spoken are true. If they aren't, move on. If they are, forgive and move on. Life is just too short for grudges. It really is. (Of course, this is the "simplified model" of relationships and it doesn't always work. Especially with those who have no evidence of the fruit of the Spirit in their lives.)
Colossians 3:12-14  Therefore, as the elect of God, holy and beloved, put on tender mercies, kindness, humility, meekness, longsuffering; 13 bearing with one another, and forgiving one another, if anyone has a complaint against another; even as Christ forgave you, so you also must do. 14 But above all these things put on love, which is the bond of perfection.
Second, we should not let it affect our relationship with them. Does it really matter? Does it affect you personally? If the answer is no (and most times it is) then just continue your relationship with that person. Remember that you don't know any of the details at all. You don't know the situations, the circumstances, the agony, the fear, the anxiety that was all part of that person's journey to whatever choice they made. Unless it is something that is currently hurting you, them, or others around them, just forget you heard it. We all have done things in the past we aren't proud of, am I right??
Luke 6:31 And just as you want men to do to you, you also do to them likewise. 
Third, if what you hear is about a Christian involved in sin (such as that person is involved in an affair or addicted to a substance), prayerfully consider speaking to them about it. Talk with a trusted leader in your church or some other godly person you know to ask for their advice.
Galatians 6:1 Brethren, if a man is overtaken in any trespass, you who are spiritual restore such a one in a spirit of gentleness, considering yourself lest you also be tempted.
Fourth, pray for that person. Instead of letting gossip fill your heart with disgust or anger or frustration, let it fill your heart with love and compassion that will remind you to pray. Oh, how often we accuse, examine, and talk about without ever lifting that person up before the throne of Grace.
James 5:16 Confess your trespasses[e] to one another, and pray for one another, that you may be healed. The effective, fervent prayer of a righteous man avails much.
Fifth, and when appropriate, steer the conversation a different way. You be the one to change the course of the discussion. Instead of joining, be the deflector. Instead of listening, be the one who changes the direction.
Proverbs 16:24 Pleasant words are like a honeycomb, Sweetness to the soul and health to the bones.
As always, I offer this post not as someone who has this nailed down but, instead, as a lowly servant of Jesus Christ who still struggles with all of this. As I write, I can see so many weaknesses in my own handling of gossip. God's Word powerfully convicts you and me to grow in our faith and move beyond the status quo Christianity that so easily ensnares us.
I leave you with these beautiful verses from I Corinthians 13. We most often hear these spoken at weddings, as two people pledge their lives to one another. But perhaps we should read them every day. They remind us of not only the spirit with which we should listen to gossip, but also give us a pattern for how we should treat others in every other way, as well.
Love suffers long and is kind; love does not envy; love does not parade itself, is not puffed up; 5 does not behave rudely, does not seek its own, is not provoked, thinks no evil; 6 does not rejoice in iniquity, but rejoices in the truth; 7 bears all things, believes all things, hopes all things, endures all things.