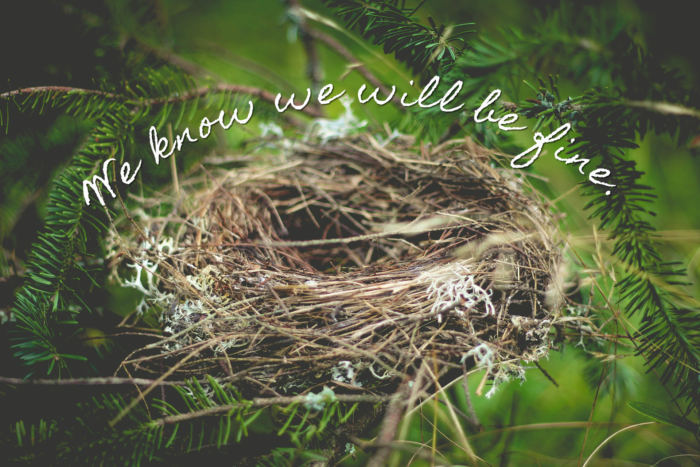 I am posting this on Monday, the day that I am dropping my youngest daughter off at college. I wrote this post a few days before we left as I started really thinking about what my new life will look like. You see, with her new college adventure, we start our own new adventure, as our nest will officially be empty. It has been quite an interesting summer trying to sort through all of the emotions that surround this moment. Actually, I have been trying to prepare myself for this for quite some time now. (But, honestly, can you prepare for this?)
As my regular readers and real-life friends already know, I tend to be pretty transparent both here on the blog and in day-to-day conversations. And, so, over the last few years, I have shared my thoughts, fears, and emotions regarding this new transition in my life fairly openly. The one thing I was not prepared for was the range of responses I would get from other women. While some women share their own struggles and warmly encourage with tears in their eyes, others casually tell me I will be fine. Still others share how excited they are for this new stage and some even imply that I am somehow being sinful or ridiculous in the struggles I am experiencing as I deal with this new transition.
And so I am writing this post to the women who don't struggle through this empty nest transition from those of us who do not find it quite as easy. There are some things that are important to share–
First, our sadness over this transition is completely separate from the absolute joy and excitement we feel for our kids. We are thrilled to watch them take this new step of faith. We couldn't be prouder that they are doing exactly what we have been planning and preparing for all of these years. But this joy for our kids doesn't take away the deep sadness we feel for ourselves as we approach the end of an era. In fact, this mix of emotions can be rather overwhelming and confusing. Are we happy or are we sad? It changes constantly.
Second, we know we will be fine. Seriously, we understand that things will settle into a new normal. But we need time to grieve. We need just a little time to mourn what was. Please help us if we stay in that place too long or we fall into a pit of despair, but we are going to be the ones who will need a few days or weeks or months to process. One lady recently told me it took her three years until she grew used to her new normal. For many of us, our whole lives were wrapped up in our kids. We never even thought about life beyond them. While this might not have been the wisest thing, it is what it is. Give us a little time to just work our way through it. We are in the process of getting used to a whole new life. We know we will be fine but it's going to take awhile.
Third, remember that everyone processes things differently. Let's offer heaps of grace to one another. We are all so different and this is a good thing. Let's embrace our differences rather than judge one another for them. I am not talking about sin issues here, of course! But when it comes to personality differences or preferences that have nothing to do with biblical standards, let's just let people be who they are. Some of us will take longer to work through these changes than others and–as long as it doesn't lead to sinful actions or behavior–this is okay.
Fourth, we already know there are amazing advantages to this time of life. We are looking forward to quiet evenings for reading, hobbies, or walks. We are excited about having a cleaner house. And experiencing freedom we haven't had in years is very appealing to us. But our enthusiasm for these things doesn't eliminate our sadness.
Fifth, the sadness we feel is not a reflection of our marriages. We love our husbands and are looking so forward to spending more time with them.
And, sixth, we would love for you to pray for us. Even if you can't understand us, would you pray for our comfort and strength as we face the end of a much-beloved era? All of the changes that life brings come with their own special challenges. And this one is no exception. We humbly admit that we can't do this on our own. We need the Lord's help. Your petitions to Him on our behalf would be such a blessing.
This particular era in a woman's life tends to be a rather crazy, unpredictable time but if we submit to God and yield to this new season that is upon us, He can use this time to draw us to Himself in a deeper way. As we all process through these changes just a little bit differently, let's be sure to offer lots of grace to one another (did I say that already?)
So to those of you who were able to have a pretty easy time of watching your birdies fly away, we just want to say: We know that you know we will be fine and we want you to know that we know we will be fine. We just have to work our way through it all.
Because we are all different.
And that's okay. :)
PLEASE NOTE: I talk to a lot of different people, both online and in real life. This post is not geared towards any particular person or conversation. It is simply my hope that this post will encourage all of us to offer grace to one another.