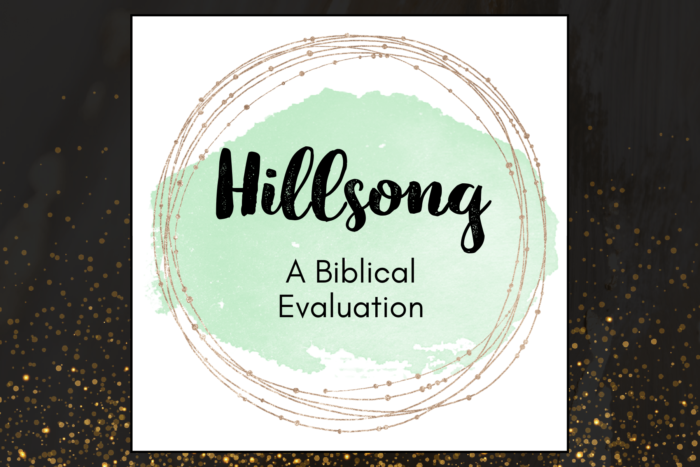 Hillsong has infiltrated almost every church in the western world in some way. This has particularly taken place through their worship music. Many of their songs have become an integral part of worship in almost any church that affiliates itself with the Christian faith. So what is the big deal? If the songs have good lyrics (and some of them do) why does it matter? That's a great question.
My oldest daughter, Jess, took the time to do some research on this phenomenon known as "Hillsong" recently and I wanted to share here what she found out. When you find out what they believe, promote, and represent, we may want to reconsider using their music or anything else from their ministry in our homes and our churches. Here is what Jess found out–
Hillsong was founded by Brian and Bobbie Houston in 1983 and quickly exploded into a massive worldwide organization. Hillsong now has a church in nearly every major city of the world, with over 180,000 people attending globally each week and even more watching online. They also boast three record labels, an international college, a film and television platform, and multiple worldwide conferences. Their record labels have dominated the Christian music industry and over 50 million people around the world sing their songs in church every week.
We are called to test all things against the truth of God's Word. So we must take what Hillsong believes, teaches, and represents and compare it side by side with Scripture. And it brings me no joy to say that Hillsong fails miserably. Here's 10 reasons why.
𝐓𝐡𝐞𝐲'𝐫𝐞 𝐞𝐠𝐚𝐥𝐢𝐭𝐚𝐫𝐢𝐚𝐧. They ordain women pastors and many of their churches around the globe are pastored by women. Bobbie Houston co-pastors the main church in Sydney, Australia with her husband. She said in reference to the topic that "the church needs to come of age sometimes and just grow up." (see 1 Timothy 2:11-14 & 3:1-7)
𝐓𝐡𝐞𝐲 𝐩𝐫𝐨𝐦𝐨𝐭𝐞 𝐭𝐡𝐞 𝐩𝐫𝐨𝐬𝐩𝐞𝐫𝐢𝐭𝐲 𝐠𝐨𝐬𝐩𝐞𝐥. Hillsong Church claims that God wants us happy, healthy and wealthy. "We believe that God wants to heal and transform us so that we can live healthy and blessed lives in order to help others more effectively" is one of their statements of beliefs.
In 1999, Brian Houston wrote a book called "You Need More Money." He asks an audience, "why would the Bible would say 'Let the poor say I am rich' if it wasn't the will of God to break the poverty over people's lives?" (by the way, that phrase isn't found anywhere in the Bible) He urges people to dream big. He claims God wants an abundant life for us and that includes health, wealth, and great success in this life.
𝐓𝐡𝐞𝐲 𝐡𝐚𝐯𝐞 𝐚 𝐰𝐫𝐨𝐧𝐠 𝐭𝐡𝐞𝐨𝐥𝐨𝐠𝐲 𝐨𝐟 𝐭𝐡𝐞 𝐂𝐡𝐮𝐫𝐜𝐡. Houston's vision for Hillsong includes one that dreams, that welcomes everyone, and that worships. "A church that loves God, loves people, and loves life. Youthful in Spirit, generous at heart, faith-filled in confession, loving in nature, and inclusive in expression." There's no mention of the Gospel, the preaching of God's Word, or the true purpose of the church according to Scripture. The primary purpose of the Church is not to welcome unbelievers but to grow believers.
𝐓𝐡𝐞𝐲 𝐥𝐚𝐜𝐤 𝐁𝐢𝐛𝐥𝐢𝐜𝐚𝐥 𝐩𝐫𝐞𝐚𝐜𝐡𝐢𝐧𝐠. A BBC article reported that "the messaging may at times attach to specific scripture but it's easily digestible, palatable, and is largely built on love, acceptance, and faith-led aspiration: be true to yourself, fight fear, never give up, believe in God." Another magazine reported that "he [the pastor] expounds on the importance of having a relationship with Jesus, as opposed to following the dogmatic structures of organized religion- ideas that are key tenets of Hillsong's brand of Christianity." Watch a few clips online, and you'll soon see that these are good descriptions. They're simply preaching the wisdom of the world wrapped up in a pretty package they call Christian.
𝐓𝐡𝐞𝐲'𝐫𝐞 𝐞𝐜𝐮𝐦𝐞𝐧𝐢𝐜𝐚𝐥. Hillsong Church seeks to unify with all religions since they all worship the same Jesus. (hint: not the Jesus of the Bible) Brian Houston said "Do you know – take it all the way back to the Old Testament – and the Muslim and you, we actually serve the same God. Allah, to a Muslim; to us, Abba Father, God." He later claimed that his statement was taken out of context.
Hillsong United has performed at Catholic conferences. Hillsong's "No Other Name" conference invited a Catholic pastor to lead a break-out session to help the Catholics attending "take the experience of Hillsong conference and interpret it into your Catholic world." Houston also released a statement about the Pope, saying "we pray too that this papacy, like those before it, is marked by a commitment to seeing the Christian message continue to go forward and people changed by the power and truth of the Gospel," claiming that they share the common desire to exalt Christ. Excuse me? There is no Christian message or truth of the Gospel coming from the mouth of the Pope.
𝐓𝐡𝐞𝐲 𝐜𝐥𝐚𝐢𝐦 𝐭𝐡𝐞𝐫𝐞 𝐚𝐫𝐞 𝐦𝐚𝐧𝐲 𝐰𝐚𝐲𝐬 𝐭𝐨 𝐆𝐨𝐝. Carl Lentz, who was the lead pastor at the Hillsong Church in New York City (he since has been fired for adultery), was interviewed by Oprah in 2016. She asked him, "do you think only Christians can be in a relationship with God?" He replied "No, I believe that when Jesus said that 'I am the way, the truth, and the life,' the way I read that, Jesus said that He is the road marker, He is the map, so I think that God loves people so much, that whether they accept or reject Him, He's still gracious." This was his presentation of "the gospel" to Oprah. Later, Bobbie Houston congratulated him and Oprah for the spirit-breathed and Jesus-centered interview, stating she would pray for the "Oprah-haters, God-haters, and Hillsong-haters" who expressed their concern over what he said.
𝐓𝐡𝐞𝐲 𝐢𝐠𝐧𝐨𝐫𝐞 𝐭𝐡𝐞 𝐩𝐫𝐨𝐛𝐥𝐞𝐦 𝐨𝐟 𝐬𝐢𝐧. Brian Houston says they're a "come as you are church." He claims that the Holy Spirit convicts, God judges, and he is simply called to love. He once said to his audience, "And you hear people say, you don't preach enough about sin. You don't preach enough about repentance. But you know what I actually think they're saying is, 'You don't beat people up enough.' Cause you know, you don't have to tell people they're sinners. They already know."
Carl Lentz said "If you go to a church and all they talk about is sin, then they aren't talking about the whole gospel. Jesus to said to give the good news and that's what we're doing. The heart of the message is, wherever you are living, whatever you do for a living, it's valid."
Somehow they separate the idea of preaching about sin and condemnation from preaching about God's love and grace. They're inseparable. There's no Gospel without both of them.
𝐓𝐡𝐞𝐲 𝐫𝐞𝐟𝐮𝐬𝐞 𝐭𝐨 𝐚𝐝𝐝𝐫𝐞𝐬𝐬 𝐚𝐛𝐨𝐫𝐭𝐢𝐨𝐧 𝐨𝐫 𝐡𝐨𝐦𝐨𝐬𝐞𝐱𝐮𝐚𝐥𝐢𝐭𝐲 𝐚𝐬 𝐬𝐢𝐧. Carl Lentz notably refused to call abortion sin during his interview on The View. Both Houston and Lentz are remarkably quiet on the topic of homosexuality. Lentz claims that Jesus never talked about the topic, so why would he?
𝐓𝐡𝐞𝐲 𝐨𝐯𝐞𝐫𝐞𝐦𝐩𝐡𝐚𝐬𝐢𝐳𝐞 𝐚𝐧𝐝 𝐝𝐢𝐬𝐭𝐨𝐫𝐭 𝐰𝐨𝐫𝐬𝐡𝐢𝐩. It has been said that the worship part of their church services "rival any other contemporary form of entertainment." Lights, smoke, effects, jumping up and down. One magazine article stated that "you'd think it's a rock concert, but it's actually church." It's the main part of their service. It's me-centered worship. It makes people feel good. The music stirs up their emotions and gives them a false sensation of spirituality. But is it true worship or an abomination to the Lord? Does Hillsong care that true worship only comes out of heart that is pure before the Lord? Does it care that worship must be done in both spirit and in truth?
𝐓𝐡𝐞𝐲 𝐚𝐫𝐞 𝐭𝐨𝐨 𝐩𝐨𝐩𝐮𝐥𝐚𝐫. Too popular? Is that a bad thing? Yes. Because the Bible promises us that God's Truth will never be loved by the world. The world will hate us. We will be the fragrance of death to those who are perishing and the fragrance of life to those who are being saved. (2 Corinthians 2:16) Hillsong Church is growing in leaps and bounds. Thousands of people attend. Positive stories about Hillsong have been featured by Vogue, CNN, The Today Show, Cosmopolitan, BBC and many others. Justin Bieber, Kylie Jenner, Chris Pratt, Kourtney Kardashian, and Vanessa Hudgens are all celebrities that attend or have attended Hillsong Church. Wouldn't you attend a church, as an unbeliever, that tells you can have both Jesus and the world? That Jesus wants you healthy, wealthy, and happy? A church that's all about love and doesn't talk about sin?
This so-called church isn't preaching the Biblical Gospel or the true Jesus Christ. It isn't a true church in any sense of the word. They've created their own message, their own Jesus, and their own church out of the lusts of their flesh. And it truly is an abomination to our God. And it's THEIR songs that we sing in our churches every Sunday. Can those songs really glorify God if they're coming from a heretical church like Hillsong? My prayer is that this saves even a few people from getting ensnared in the lies of this church and everything with the name Hillsong attached to it.
(This was a very long post and I didn't have the space to explain why each of these things is wrong Biblically. If you don't understand why we can't unite with Catholics, how we know the true purpose of the church, why the prosperity gospel isn't Biblical, how we know homosexuality is a sin, etc. – feel free to message me or dig into the Word for yourself!)