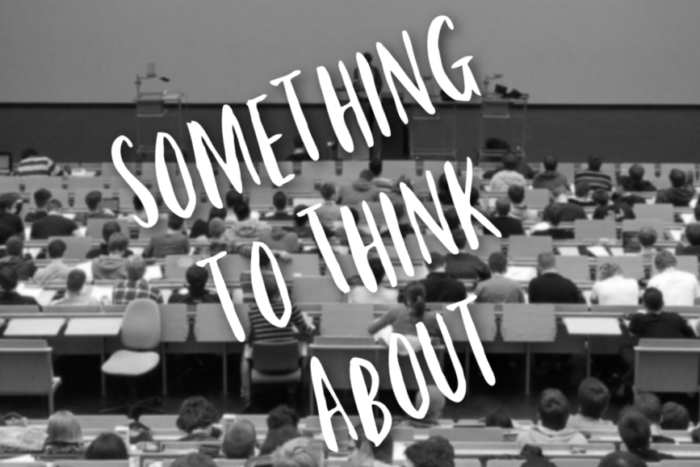 This past weekend, I was sitting at the airport when a woman a few years younger than me sat down next to me. She was friendly and we struck up a conversation. I soon realized that she was someone who believed in God and traditional values. We chatted about her kids for awhile. As is often the case, she was happy to talk and I was happy to listen. What I wasn't expecting were the interesting –and rather disturbing–things she was going to tell me.
Keep in mind that I was not directing this conversation in any way. I didn't ask leading questions or, honestly, any questions at all. She started talking and I simply listened, adding an "Oh, my goodness!" here and there. She had no idea that I blog or have any public platform whatsoever. She was just sharing what was on her heart. But I felt I needed to share it here with you.
She started telling me about her sons and their decisions, individually, to go to a Christian university after their experiences in a secular university.
She first shared that there was a required ethics class at the secular university. Only the students were never allowed to make an ethical choice. It should have been called "unethics." If they were given a multiple choice option, it never included any good or right choice. It was always something that flew in the face of traditional, biblical values. And, to any normal human being, some of these options were simply horrifying. I won't even bother to repeat what she told me. It was disturbing beyond measure.
While some kids, perhaps like her boys, can see this for what it is, far more are mightily influenced by these kinds of classes. And this is just one example. I know there are more because I've run into them multiple times. Some of you may be able to share examples from the experiences of your own children. They are plentiful and on every secular campus across this country.
The second thing she shared (and she had to wrap this up quickly because we had to go get in line for our flight so I wasn't able to ask any questions or get more details) was that one of her sons has a gift for speaking and had risen pretty high within the college debate team. This afforded him many opportunities, including giving a speech at the UN. What he soon realized (and I was NOT expecting her to say this) is just how ORCHESTRATED the happenings in our world are. For example, she said, in this world he found himself in, he was given the job to help set up protests for lefist causes. He quickly realized that most protesters are paid actors who are told where to stand and what to do. In fact, he either recorded this happening or saw something that someone recorded. I was listening to flight information about this time, so I missed exactly what she said here. What I did take away is that what we see on the news is not what actually happens. I think we all suspected this already but it was interesting to hear it confirmed.
So, in essence, these kids are learning that morality is pointless and unnecessary. That people should do whatever it takes to reach their goal, dream, or desire. Or what the political party they are following desires. It's all completely opposite of what the Bible teaches.
A few days before this conversation at the airport, a couple had shared that they had recently moved to Texas from Seattle because of what the schools were planning to teach their kindergartner about sexuality.
Someone also recently told me that their child's history book had been re-written. That they had removed what were facts and are re-writing what is being taught to our kids. Think about the ramifications of that for a moment.
Ironically, as I was getting ready to post this someone sent me an editorial that was almost rabid in its disdain and hatred of traditional values and historical America. In fact, this person blamed those who held to and appreciated these things as the root of all kinds of evil and the cause of the issues America faces. And guess who this person was? A retired long-time professor at one of our local (nominally Christian) colleges.
Folks, these people are your professors. These are your teachers. It is what they were taught and it is what they are teaching. Are there some exceptions to this? Yes, of course, there are and praise God for them! But they are growing fewer and fewer.
And while some states may be miles ahead of your own in what they are pushing and changing in elementary, middle school, high school, and university classrooms, I think we are kidding ourselves if we do not recognize the serious danger that public education on all levels poses to our kids.
And I don't say this as simply an observer of this particular type of education. While I have some very pleasant memories and some great friends from my years spent in public education, I have to admit that as I consider my education in small-town America (which took place over 35 years ago), I have to admit that I had my share of teachers teaching against traditional, biblical values already back then–
◆ A teacher promoting Romans 1 living (abandoning what is natural for what is unnatural).
◆ A teacher promoting evolution/atheism
◆ A teacher who was into witchcraft (and talked about it with her students)
◆ A teacher who declared that all roads lead to heaven
◆ And the "hip" P.O.D. (Problems of Democracy) teacher who stood against most everything my parents stood for
Now while two of these were not the kindest to me when I stood up and challenged what they were saying (because I was just that kind of kid), the other three were very tolerant of me and seemed to enjoy debating with me. But the core issue remains the same, does it not? Even back then there was an agenda. And most teachers were following it.
It is no different today. There is an agenda. And it is plainer to see now than ever. No matter which school in which state in which town. All of them are following orders to some extent. They have to…or they lose their funding.
And problems aren't limited to secular schools and universities, are they? I had the privilege (insert dripping sarcasm) of recently attending the graduation of a small Christian college. In the opening the president quoted from and talked about a book that wasn't even a Christian book! For twenty minutes he told us what this book had to say about changing society with nary a word of scripture or biblical counsel. I was dumbfounded, quite honestly. But it explained to me some other concerns I had had about that school as my child attended there. It was easy to see the direction he was planning to take the school. And this, a small Bible college in a conservative area of the country.
And even in the Christian school we sent our kids to there was an occasional teacher who told them something that wasn't biblical. Christian schools are not "safe zones" where you can remove your radar and relax, which is what we hope to do. What we want to do. We are tired. We are weary. We want to rest.
But there isn't any rest for the diligent, discerning believer. As I Thessalonians 5:21 says:  Test all things; hold fast what is good. This takes effort and intention. And it's hard. And definitely not popular.
I believe the very best thing we can do for our kids is teach them from the Word ourselves. Talk about what matters. Don't leave it up to church to do that. We need to stop focusing on the the grades and the games and the shallow stuff of life and turn our attention to the stuff that is going to protect and strengthen our kids for what they are going to face– no matter what school they go to.
Teach them what God has to say in His Word about Creation, about Israel, about love, about courage, about the future, about this world, about Satan. Show them that what the world is teaching them –and even much of the visible church–is just plain wrong, according to scripture. Teach them how to do their own comparing of things to scripture so that they are prepared.
And then be that parent that your student can come to with questions. Be open and honest and real. We don't have it all together or have all the answers, so we might as well not act like we do. But we can help them find them and we can learn and grow together. The problem is that most people seem not to care about the stuff of life that really matters.
I am not telling you what education to choose. I am simply asking you to think about it. You are sending your kids to a place where they spend most of their waking hours. Be aware of what's going on and teach your kids to be aware, as well. 
For this modern thing called "education" may be the greatest danger to our next generation.