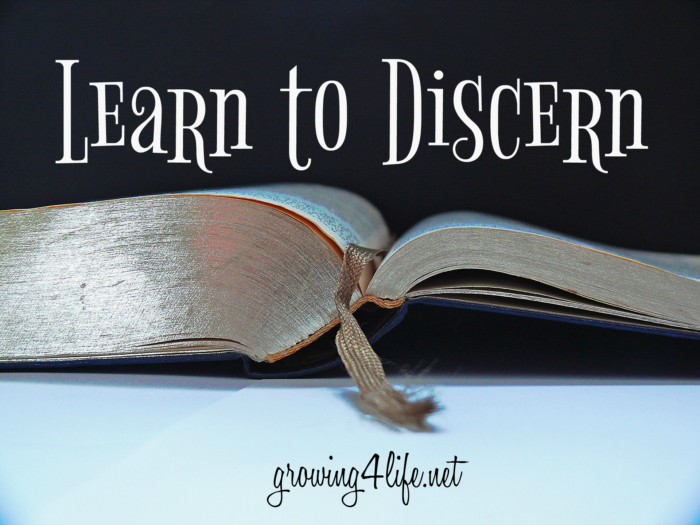 I don't think I can count the amount of times that I have heard something like this as a defense for a false teacher or a doctrinally unsound book or church–
But it has helped so many people!
(or its sister comment: It has really helped me.)
The item or person in question is judged on this fact alone– if it has helped someone, it must be right (and the opposite: If it hasn't helped anyone, it must be wrong.)
But here is something we must consider: Is this how the Bible teaches us to determine truth? Does the fact that something is helpful automatically make it true, right, or good?
The belief that this is how we determine truth is called pragmatism.
Officially, the definition for pragmatism is: An approach that assesses the truth of meaning of theories or beliefs in terms of the success of their practical application.
In essence, it is the belief that the end justifies the means.
Most of us would say, of course, this isn't true. We would never agree that we can get from point A to point B any way we want to. But, when it comes to how we actually approach what is true, we have taken on this philosophy far more than we would care to admit.
For example, when the book The Shack first came out, many, many Christians loved it! If anyone dared to suggest it wasn't doctrinally sound, the defense was that "it helped me understand who God is" or "it comforted me."
Of course, we can see that the measurement being used by most people to judge this book was a practical, subjective method (how it makes me feel or what I have perceived) rather than using scripture as the measurement tool.
All these years later, William Paul Young shows us clearly that He does not believe what the Bible teaches in his latest book, Lies We Believe About God. In this book, he clearly denies tenet after tenet of the Christian faith.
So why were so many Christians fooled? Why did they not recognize this early on? And why did it take a book that finally clearly espouses what he believes to convince them?
For many, it is because they are pragmatists. They judge what is right and what is wrong by what works for them or by what feels right or good.
I guess it is only natural that this would eventually enter even the most conservative churches. After all, it started in the secular culture awhile ago now. But it is important that if we are going to learn to discern, we do not fall prey to this deadly philosophy.
And so in order to protect ourselves it is critical that we learn what scripture teaches us about how we determine truth. Let's take a look–
John 17:17 – Sanctify them in the truth; your word is truth. 

In this chapter, Jesus is praying for believers. He is asking the Father to protect and keep us. And to sanctify us. And He adds this interesting line: thy word is truth. The Bible is truth.
John MacArthur's writes about this verse–
"Sanctification is accomplished by means of the truth, which is the revelation that the Son gave regarding all that the Father commanded Him to communicate and is now contained in the Scriptures left by the apostles."
In 2 Timothy we find another verse showing us that the Word is truth–
2 Timothy 2:15 – Do your best to present yourself to God as one approved, a worker who has no need to be ashamed, rightly handling the word of truth.
So from these two verses, we can see that the Bible is truth.
Now let's take a moment and look at a few verses that clearly show we will not be the popular ones, the successful ones, and that it will appear our methods are not working (at least according to human, worldly standards)–
Romans 12:2— Do not be conformed to this world, but be transformed by the renewal of your mind, that by testing you may discern what is the will of God, what is good and acceptable and perfect.
Luke 6:26—Woe to you, when all people speak well of you, for so their fathers did to the false prophets.
James 4:4—You adulterous people! Do you not know that friendship with the world is enmity with God? Therefore whoever wishes to be a friend of the world makes himself an enemy of God. 
We can know from these verses that true believers will generally not be favored and followed. (Generally. There are exceptions, of course.) This is because we cannot be friends with the world. Therefore, even when we are faithfully following God and doing as He commands us in His Word, it will often appear as if what we are doing is "not working". And, because we are basically told both inside and outside the church that "if it isn't working, God isn't in it", we are tempted to measure ourselves by the success we experience in the mainstream church or the world, rather than by using the barometer of scripture.
I would also like to remind you that Satan has to make false teachers look appealing. If he didn't, no one would follow them. Therefore, the indication that their methods or ministries seem to be working according to human standards should never be our measurement of what is true, right, or good.
Of course, there are also the real-life experiences of Jesus, Paul, Jeremiah, and of countless others throughout the history of the world to also assure us that what we are doing will not always appear to be working. Followers deserted Jesus (John 6:66), Paul was attacked by the crowds (Acts 16:22-24), and Jeremiah's pleas for change did not work (Jeremiah 44:4-5). Research a little church history or read a few missionary biographies and you will find many more examples of this.
So should we judge whether or not something is true, right, or good by if it is working? Should we determine our own course of action or ministry by how it appears to be working?
I hope I have convinced you that this isn't a good idea. This is a big topic that cannot really be wholly covered in a short blog post. But I do hope I at least got you to start thinking about how to judge the popular "Christian" books and the celebrity pastors that are in abundance today. I am going to include a short video below that will probably do a much better job than I can. I hope that this will help you see even more clearly not only how this thinking has invaded the church but how deadly it is to the church–
Find all posts in the Learn to Discern series here.