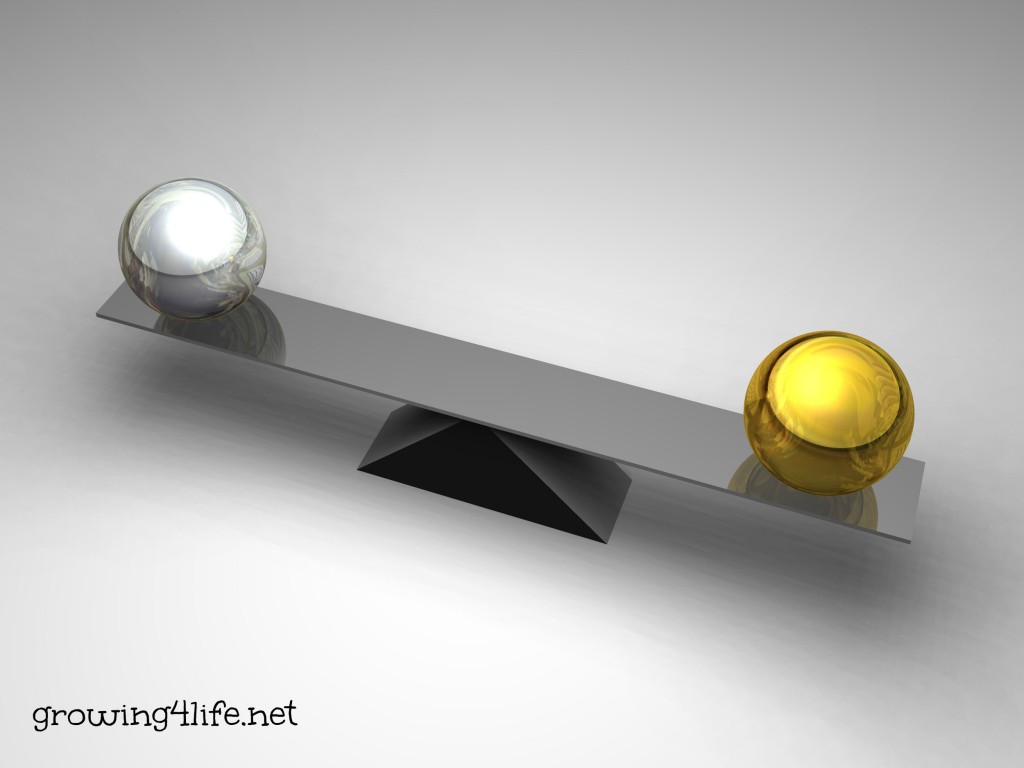 Balance is very important in the life of a Christian, but most of us have a very, very difficult time finding it. You see, somehow we have to find the balance between —
Accepting where the Lord has placed us
and yet,
Continuing to learn and grow from the trials
And between–
Accepting and resting in the grace of God to cover all of our sins
and yet,
Striving to be more pure and holy with each passing day
And between–
Accepting the way God has made us
and yet,
Never giving up on improving ourselves
This is all especially personal to me, because about this time in life (speaking only for myself, you understand), I am not always accepting with much of anything (just being honest here). My kids are almost grown up and I find myself nearing the end of the only full-time job I ever wanted. I don't look like I want to look. I often don't act or react like I think I should. I am frustrated that I haven't progressed more as a Christian. And, a few years ago, I started to realize that happy endings are mostly in movies. Thankfully, there are a few in real life, but even those take a ton of work. Mostly, you just do the best you can with what you are given.
And, look, I have a great life. I know I do. I am not complaining–not a bit. But, somehow, I have to figure out how to accept who and where I am–right now– without giving in to complacency and apathy. And that's what is so hard. And that's where joy comes in.
You see, if I can't accept the circumstances in which God has placed me or in who God created me to be, then discontent will reign in my heart, pushing out joy (Romans 9:20; Psalm 139:14; Philippians 4:11). But if I am too accepting of myself or of my circumstances, then there is no desire to change for the better, also pushing out joy (Philippians 3:12; I Corinthians 9:24-27; Romans 12:1-2) . And, so, somehow we have to find the balance.
So how exactly do we do this?  I confess I am not totally sure. But maybe we should start with this week's challenge:
Take some time this week to do an inventory of yourself.  Think about what you don't like about yourself or circumstances. Are they things you can change or are they outside your control?
Prayerfully, give the things you can't control to the Lord (you know–things like the scar on your face, your husband's horrible boss, the wayward adult child). In fact, go a step further, and thank the Lord for these things, for they have probably led you to a deeper walk with the Lord.
And then, look at the things you don't like that you can control (things like a huge amount of debt, laziness, bad temper, extra pounds) and develop a plan to start working on them, yielding them prayerfully to the Lord.
Of course, sometimes issues get lost in the big black hole between the can control and the can't control –things like marriages and wayward teens. Okay then, if that is the case, we do what we can do and then submit the outcome to God, praying confidently for His will to be done. After all, we know it is His will that our marriages stay together and that our teens follow hard after Him.
This challenge is a little deeper this week and a little more work, too. But, I truly believe that until we can find the balance, we will either be stuck in the land of discontent or find ourselves in the fields of laziness and apathy. May we always be striving, instead, for the life of balance, which will lead us to deeper joy.