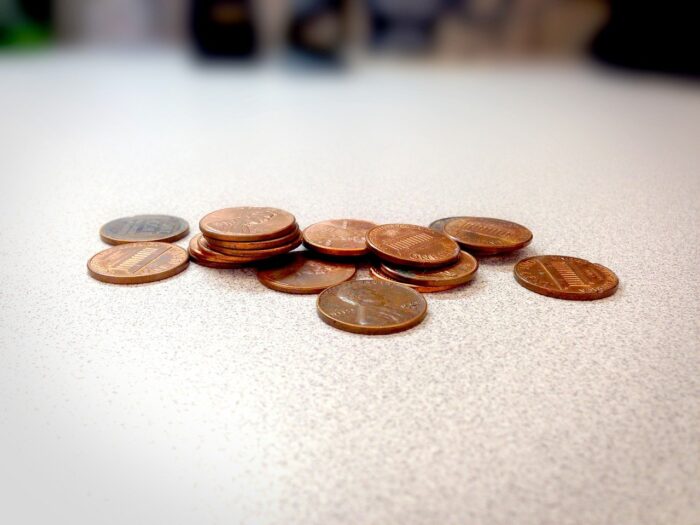 Awhile ago, I was doing laundry and found a penny. I am not sure what adventures that penny had been on but what I learned that day was that pennies aren't copper all the way through. The copper is only a thin veneer that covers what I imagine must be some cheaper, undesirable metal.
A few days ago, my daughter told me she was in an elevator with her two year old. The masked man in the elevator said to my granddaughter, "you can push the button." My daughter thought he was being nice. And then he said the words that showed his true heart and removed the thin veneer of courtesy: Let her get the germs.
That awful man cared more about his own health and safety than about the health and safety of a two year old little girl.
But this is not a lone story. Everywhere you turn you are learning things about people you just never wanted to know. We are learning the priorities, the fears, the selfishness, the ugly hearts. We are learning this about strangers; and about neighbors, church family, and co-workers; about extended family, and, sadly, even about our own dear family members.
Status Quo has a way of covering up the truth. When status quo is shaken, the truth –which was always there– starts showing itself.
So that's kind of depressing, really. I mean it's been so heartbreaking to see the division, the anger, the unforgiveness, the selfishness, the fear-driven decisions. It's absolutely disheartening, isn't it?
But within those depressing, heartbreaking, disheartening circumstances lies an unprecedented opportunity for believers.
Let's go back to that penny for a moment. We believers still have that undesirable flesh that resides within us causing all kinds of trouble. The only difference is our coating. Instead of a thin veneer of courtesy and morality, we are now covered by Christ's blood. Our veneer has been replaced by the indestructible gold of Christ's sacrifice. And that covering will start changing our ugly old flesh into something precious. It takes a while and we all have our own journeys, but we should be battling the flesh less and less as we grow in the faith.
So now comes that opportunity to which I was referring.
In this world gone mad we have the opportunity to look different than the lost around us because we are different. Our responses, our choices, our actions, our lifestyles, our decisions–they should be born out of faith instead of fear. They should be born out of a love for righteousness instead of a love for evil. They should be born out of a heart surrendered rather than out of a spoiled, selfish "I want my own way" heart. Some questions to ask as we reflect on this: Are my responses and choices determined by my thoughtful study of God's Word? Do I care more about the welfare of others than I do about my own? Do I trust the Lord for the days ahead? These are the changes that are made in the heart of God's child.
Oh, not instantly. Rarely instantly. But we have the Word as our guide and help. And we pray. We ask the Lord to show us our weak spots. Our ugly sins and flaws. We ask Him to make us more like Christ. And then when we stumble, we readily and humbly admit we have sinned and try again.
And so…it isn't that we are perfect. It isn't that we are some icon of calm in the midst of the chaos. It doesn't mean that we are without an occasional short temper or curt word.
No, the difference is that we humbly admit when we are wrong. The difference is that we desire to be a light in this dark night and we act on that desire. We aim to grow in our faith. We are never satisfied to look like the dying world around us. Instead of hypocrisy, we are characterized by frank honesty. Instead of hiding our heads in the sand, we are are characterized by a willingness to face the hardest truth with courage. None of this is done perfectly. We just bring a willing and wanting heart to do what is right.
The other day someone treated me very rudely at the store. I hadn't done or said anything to them but simply wasn't doing what they thought I should do. I reflected on how rude some people are becoming in the midst of all of this uncertainty. And I pondered for a moment how bad it would get if there literally was only some food on the shelves and not enough to feed everyone. What would people be like then? Visions of the toilet paper shortage from early 2020 come flooding back and we know how people would act. It's kind of scary, isn't it? But a more important question is what would I be like? If I couldn't get my basic necessities how would I respond?
Will this happen? I have no idea. But a great time to practice for that is right now. We can and we must be intentional in our responses right now. When we can't get that item we need because it's out on a cargo ship somewhere; when the waitress is overworked and struggling in the short-staffed restaurant; when the store clerk is just so incompetent; when the customer service rep on the phone couldn't care less about you or your problem; when the neighbor ridicules you for your worldview; when a family member makes a choice you 100% disagree with; when that employee calls off yet again; when a fellow believer hurts you deeply; when life just doesn't go our way.
THESE are opportunities to respond with love and grace and truth and kindness. These are the opportunities–and they are becoming more and more plentiful, aren't they?–which God can use to grow and prepare us for whatever lies ahead.
We may still be ugly metal on the inside, but we are promised transformation. And little by little that ugly metal is changing into something much more precious. Oh, we will always have some of that flesh within us here on earth but, through the power of the Holy Spirit, we can diminish it's presence and power in our lives.
I wish I could say I have this down perfectly. But, like always, I am simply writing about what God is teaching me. The other day I had such a frustrating conversation on the phone with a customer service rep and I found myself growing angrier by the minute. While I do think I handled it better than I would have ten years ago, I still have such a long way to go. But I am getting lots of opportunities to practice these days and I am guessing so are you. So, together, and with God's help, let's intentionally be different from the rest of the world. And, through that difference, may God use our light to draw the lost to Him and to encourage fellow believers along the way.