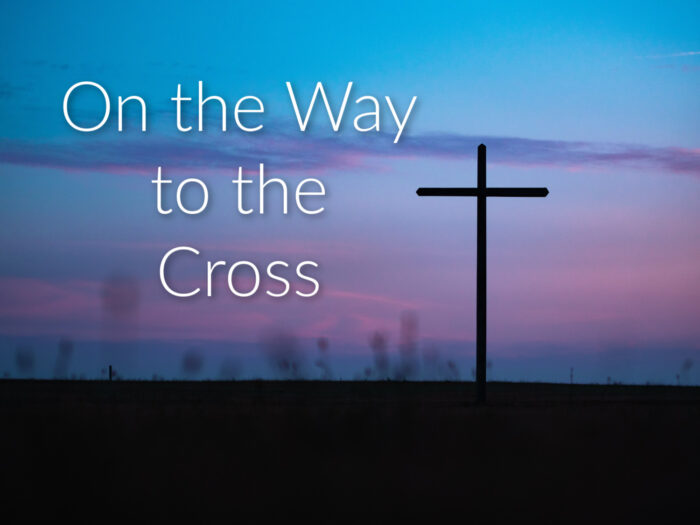 Today's post will not be my typical post but will be rather be a collection of thoughts and observations regarding Mark 14, which we are currently studying in the 2023 Bible Reading Challenge*. This chapter is so full and rich with lessons and guidance as it describes the last couple of days before Christ's crucifixion. It gives us so very much to reflect upon as we prepare our hearts and minds to celebrate Resurrection Sunday.
If you have a bit of time, I encourage you to read Mark 14 and then come back and read this post. I am going to share some reflections I had on this chapter. (If you are on the 2023 Bible Reading Challenge Facebook group page, much of what follows will be familiar to you already although I have expanded a bit here on what I wrote there.)
Mark 14 is 72 verses long. Those 72 verses are packed full with the events that happened the two days before the crucifixion. There is so much to take in but here are a few observations from my initial study of this special chapter–
— The woman who anointed Christ with precious oil was anointing Him for His burial and He commended her, although she was criticized as being wasteful in doing so. (v. 8-9) This is a good reminder that we must do what is right and what Jesus has called us to do, despite the criticism that may come to us.
— Christ clearly shows His deity when He gives the disciples directions for where they will have their Passover meal. He knows exactly who to tell them to follow and that a room would already be "furnished and ready". (v. 13-15) But how did that homeowner know to set up his upper room for Jesus and the disciples?? I guess we will never know that. At least not on this side of heaven.
— Judas, the greatest TRAITOR ever to live, was also a DISCIPLE of Jesus (v. 10-11). He joined disciples in all of their conversations and activities and sat under the teaching of Jesus Himself as He prepared this special group for what lay ahead. Judas pretended to be genuine but he was, in fact, a liar and hypocrite. This is a great reminder that some people are geniuses at pretending to be someone they are not. We must not be gullible and naive as we navigate this current church age. Much prayer is needed as we seek to discern the wheat from the tares.
— I had the thought that v 23-24 very clearly shows that the doctrine of transubstantiation is absolutely false. For Jesus gave the first communion here and He was alive and well. Which shows that the bread and cup did not become His body or His blood. Beware the doctrines of men which are not based on scripture. Transubstantiation is found nowhere in scripture at all. This is most often recognized as a Catholic doctrine but I recently became aware that it is in the Lutheran church, as well, and perhaps others? And, once again, our own personal study of scripture will protect us as we seek to discern the true from the false. It is truly our greatest protection.
— Jesus told the disciples that they will all fall away. They all assured Him they would not. But they did. They did, indeed, all scatter or deny Him upon His arrest. (v. 27-31) And, while this is such a very sad chapter in the life of Jesus here on earth, it can also encourage us. For these disciples whose courage wavered during this trying time went on to serve Jesus well. Most went on to die for Him. This was but a small hiccup in lives given in service for their Master. Oh, the great grace and mercy of God that gives each of us a second chance when we mess up so abominably.
— Jesus sets a great example for those who would follow Him through the rest of the ages as He begs for the cup that He is about to drink to be taken away. He is in great agony of soul during this time and He recognizes that the Father can still remove this awful burden, for all things are possible with God. And, yet, He closes His prayer with this profound statement: YET NOT WHAT I WILL, BUT WHAT YOU WILL (v.36). As I read that sentence, I realized that this is what the prayer of any true follower Christ should–no, MUST–be. For that is what true faith looks like–yielding our will to God's Will. Sometimes it takes us awhile to pray this prayer with sincerity of heart as we are human and still fighting our flesh, but this is where we should land eventually. Jesus chose to yield to God's will in this matter of the Cross. And so we, too, must choose to yield to God's will in both the small and large trials that God brings our way. May it be our heart's desire to pray this same prayer in our own troubles that Jesus prayed in the midst of His incredible and unique suffering.
— I am grateful that God has not given us the foresight that Jesus had (v.32-36). Jesus knew full well what lay ahead in all of its facets–both the physical and emotional pain and, even more so, the sin of mankind that would rest upon His shoulders when He would breathe His last as a human. This was the cause of such tremendous agony of soul as He prayed at Gethsemane. Aren't you so glad you do not know the future? The anticipation of an event can exponentially magnify the grief of a distressing experience. What a burden that would be.
— "The spirit is willing but the flesh is weak." (v. 38) Oh, how sadly true this is! Does this resonate with you as it does with me? Jesus says this to the disciples when they fall asleep while waiting for Him. Why can't they stay awake? Oh, how I can relate. How often my flesh is so weak when I so long to do what is right. Again, the disciples offer comfort to our weary souls. If Jesus not only used these men but chose them, then there is hope that He can use us, as well.
— When Judas betrayed Jesus in the Garden, one of the disciples struck the servant of the high priest and cut off his ear. (v. 47) Luke records that Jesus immediately and miraculously healed the servant (Luke 22:51). You'd think that some of those chief priests and scribes and elders would be having some doubts about their agenda at that point! But when wicked men set their hearts on doing evil, there is little to deter them but for direct intervention by God Himself.
— Jesus's case was not cut and dry but was full of holes and false witnesses (v.56) And, yet, as so often is the case, because of the agenda of the high priests and council, these things worked to condemn Him. It is a reminder that life just isn't fair. It is also a reminder that God, who could have saved His Son at any point in this farce of a trial, very specifically allowed Jesus to be crucified for the sin of mankind. This was God's plan so that all who call on the Lord for forgiveness would be saved!
See the Sov'reign of creation, King of earth and skies,
All for sinful man's salvation thus He dies, He dies;
Yet He lives, a mighty Monarch, reigns o'er every foe,
Causing mortal man to triumph over sin below.**
— The final words of chapter 14 (v. 72) may be some of the saddest in the Bible. Peter knew just what he had done and he wept bitterly over it. Jesus had told him that he would deny Him and He had been exactly right. Peter had denied him. Not once but three times. And, once again, Peter is a source of much encouragement to those of us who would seek to please the Lord and then, in a moment of weakness, fail miserably. The forgiveness and lovingkindness God has for us when we fail is overwhelming. And Peter's life reminds us that those failures need not keep us from living victoriously for Christ. We continue on, learning and growing from them. Oh, what a wonderful reminder.
There is so much in this chapter to reflect upon. We so often think of Jesus's crucifixion in light of the day it happened and the days after it happened. It has been interesting to study the few days before it happened. I hope you will take some time on your own to read through Mark 14 this week. It is such wonderful preparation as we head into Resurrection Sunday.
* It's not too late to join the Bible Reading Challenge! We finish up Mark this month and then will move on to Jonah for the month of May. Anytime is a great time to start this challenge! Find out more here.
** These lyrics are from the fourth verse of an old hymn called Crucified for Me, written by Barney E. Warren in 1911.