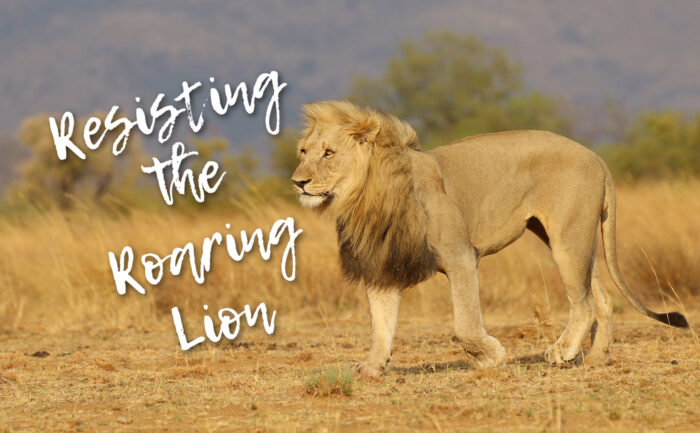 We have been studying I Peter this past month in the Growing4Life Bible Challenge. It is really hard to cover this book of the Bible in just four weeks but we are taking in as much as we can! There is so much there! We are now on the final chapter, chapter 5, and verses 6-11 contain much that is profoundly helpful for us believers in 2022–
6 Therefore humble yourselves under the mighty hand of God, that He may exalt you in due time, 7 casting all your care upon Him, for He cares for you.
8 Be sober, be vigilant; because your adversary the devil walks about like a roaring lion, seeking whom he may devour. 9 Resist him, steadfast in the faith, knowing that the same sufferings are experienced by your brotherhood in the world. 10 But may the God of all grace, who called [g]us to His eternal glory by Christ Jesus, after you have suffered a while, perfect, establish, strengthen, and settle you. 11 To Him be the glory and the dominion forever and ever. Amen.
The first verses gives us a framework for the rest of the passage: Humble ourselves and cast our cares on God. These are two very basic things for the redeemed to remember:
First, we must be humble. We must stop thinking more "highly of ourselves than we ought", as Paul puts it in Romans 12:3. Later on in that same chapter, Paul puts it like this: "Do not be wise in your own opinion." (vs 16). This is a key aspect in a healthy Christian walk for a number of reasons but the two that come to mind: To be in right relationship both with God and with others necessitates humility.
Second, we must stop fretting and worrying. Instead, God tells us to cast our cares on Him and choose to trust Him to care for us. He has promised to do this not only here in this passage, but throughout scripture. He loves and cares for His own. He will never forsake us! (Hebrews 13:5)
Now with those two exhortations, Peter goes on to talk about our adversary. In our modern day Christianity, many believers shy away from talking about the devil. Of course, there is the other extreme, where one blames everything on the devil or thinks he can be ordered around, as if that is their job to do so (It's not!!). So what should be our right response to the truth that we Christians do have an enemy and it is the devil?
Peter gives us some instruction in verse 8: Be sober and be vigilant.
Dictionary.com gives these partial definitions–
Sober–not intoxicated or drunk.
Let's think back to what it says in Ephesians 5: And do not be drunk with wine, in which is dissipation; but be filled with the Spirit. From this, I believe we can deduct that Christian sobriety comes from being filled with the Spirit. And let's remember: It is not just wine that makes us intoxicated! We can be intoxicated by any number of things: ungodly novels, worldly entertainment, temporal goals, money, hobbies; so much can intoxicate us into a state of caring little about spiritual things. This intoxication (or idolatry!) is what leaves us open to the attacks of our enemy. 
Vigilant–sleeplessly watchful
We are a spiritually lazy culture. Many people claiming Christ don't even open their Bibles between Sundays. They are asleep spiritually. Caught up in their distractions and worldly living, they are uninterested in what really matters. Instead of being sleeplessly watchful, they are sound asleep and can't see a thing. Vigilance is not a popular concept these days, but here in I Peter we are told it is necessary in order to protect ourselves from our enemy.
Why is it so important that we are sober and vigilant? What is the big deal? Peter goes on to tell us why it's a very big deal:
Our adversary, the devil, walks about like a roaring lion, seeking whom he may devour!
This is not just some fable or allegory told for our entertainment. This is 100% true.
We have an enemy who seeks to destroy us. Of course, if we are saved, there is nothing he can do about our eternal destinies. But he can, and often does, render the believer ineffective for the Kingdom of God by distracting us with the frivolous and the meaningless, by getting us caught up in unbiblical philosophies and practices, and, often, by tempting us to sin or to feel discouraged and without hope. And, since he often cloaks himself as an angel of light (2 Cor. 11:14), he will be hard to spot–unless we are sober and vigilant and expect his attacks, both the obvious and the deceptive.
Peter goes on to say that we must resist the devil and remain steadfast in the faith.
We resist the devil and remain steadfast in our faith by submitting to God's Will and obeying His Word. There is no other way. And, in fact, this is one of the biggest areas of life that Satan attacks us, for he does not want us in the Word of God, understanding God's care for us, feeling conviction of sin, and recognizing the need to surrender our dreams and passions to God.
Of course, for all of us, resisting the devil and remaining steadfast in our faith is not an easy task. As Peter says, it often brings suffering. If you have read the biographies of men and women from the past, you will know that they suffered greatly as they battled Satan and stood for the truth. Whether on the African plains, in the Chinese village, or in the cathedrals and monasteries of Europe, wherever there have been people who share the Gospel and stand for truth, there is suffering.
Peter tells us to expect this suffering and to know that these same sufferings have been experienced by other believers all across the world.
But Peter doesn't end there! (Aren't you so glad he doesn't??)
He goes on to remind us that God won't just let us drown in suffering but, after suffering for just a while, God will perfect, establish, strengthen, and settle us. I wonder if God doesn't use the suffering for these very purposes? For it is in suffering that we often experience these things. True believers aren't weakened by suffering. They are strengthened. True believers aren't shaken by suffering, they are settled. God, in His goodness and in His ultimate perfect plan works all things out for His glory and our good (Romans 8:28).
And then there is the final verse that reminds us of just how big this One, True God is that we belong to, as Peter reminds us that all glory and dominion belong to Him! We know glory means great praise, honor, adoration. But what does dominion mean? Well, in a nutshell, it means the "absolute right to rule". God is the King of all.
While it may look like Satan is winning, he isn't! Some battles may be lost, but the war will soon be over now and we are on the winning side! May this truth help us stay sober and vigilant. May it remind us that we are not resisting the devil alone, for we have the God of the Universe fighting with us and for us. And may we remember this truth as we suffer for our Savior, whom we are given the privilege to serve during our short time here on earth.
God has been so kind to give us His Word in this crazy, upside down world. I pray it is an encouragement to you as you go out into the world to soldier on for the Lord this day!