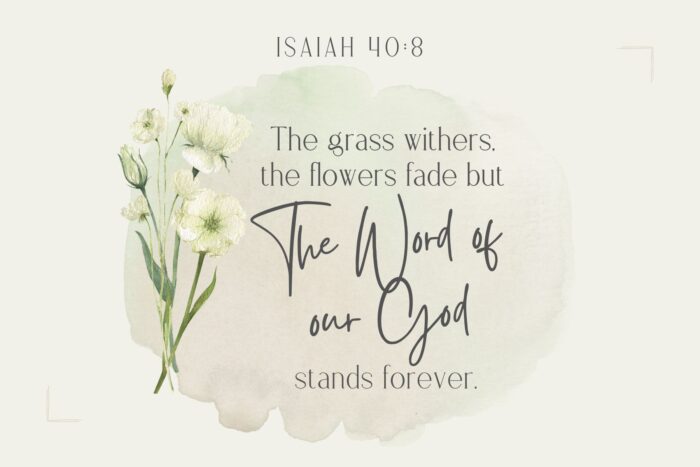 A month or two ago, I picked up a short book by a favorite author on the subject of prayer. As I read, my mind became a bit confused. This did not quite match what I had always believed the Bible taught me about God. My mind mulled this over for awhile and reflected on it. I knew the Bible was right. So that was a non-issue. But it was quite disconcerting that this author, who clearly had a strong walk with the Lord, would end up at such a mystical place.
When I visited with my brother and his wife this past weekend, I took him a copy of this specific book to read. He turned it over in his hand and opened it to look at the table of contents. As we discussed it, he said this profound statement:
You cannot let a book determine your theology.
Read that again–
You cannot let a book determine your theology.
Theology simply means "what we believe about God". And many people today are letting books written by fallible men and women determine their theology. But it is not just books. Christians are letting science determine what they believe about God. They are letting music, movies, and tv shows determine what they believe about God. They are letting their own experiences or the experiences of friends and family members determine what they believe about God.
Let's look at a few examples–
–For the past several decades, books have been coming out that have completely changed how people think about God. Books like The Shack, Experiencing God, Jesus Calling, and a plethora of others have slowly eroded what Christians believe about God. Instead of comparing them against the Bible, they are reading them instead of the Bible.
But they are so engaging and they say really nice things that we like.
–For quite a while now, we have dealt with an influx of "Bible shows" from Hollywood. It started with "Passion of the Christ", produced by a Catholic, and then it was the Bible series produced by a self-proclaimed new ager, and then it was The Chosen, produced by Mormons. When one compares what these movies and shows are teaching those who watch them to what scripture actually says, we can see that they are completely and utterly compromised. And, yet, people keep watching them. Christians keep watching them. And not only watch them but proclaim them as right and good. Their reasoning is often that it may draw people towards God and the Word. But is this right and good? Of course not. While God can use these things, He certainly doesn't need them. He can have a rock talk to a person if He wants.
(Not to get too deep here but notice that this is where faulty Armininian theology affects the choices of believers. If we believe that the responsibility for someone's salvation lies at our feet rather than at God's then we must do all we can to save someone or they might not be saved. But God's Word teaches that we must instead realize that we are simply planting seeds and it is the Holy Spirit that moves and works in the heart. God never needs fatally compromised entertainment to accomplish His purposes.)
And I firmly believe that these shows are doing far more harm in wrecking the theology of believers than they are doing any good in bringing people into God's Kingdom. For how could they be doing much good, when they aren't even teaching the truth about that Kingdom?
But this show or movie might be doing some good.
–For the past hundred or more years, a theory called "Evolution" has taken hold of the scientific world like it is based on proven and definite premises. But it's simply not. Pretending it is science (when it simply cannot be, due to the fact that it cannot be observed), academia has put forth this theory as gospel truth. Christians, concerned about appearing nonintellectual, then took this theory and tried to marry it with the Bible. What resulted was a mishmash of ridiculousness that can clearly be proven false by any humble person that studies the Bible at all.
But they are intimidating and seem so knowledgeable.
–A friend tells you that God told them something very specific. Or perhaps they had a dream or a vision that came true. These kinds of things can throw us if we aren't grounded in the Word. We don't want to discount them and yet we cannot change our theology based on them. The thing that always comes to mind when I am told something that is puzzling like this is to remember that Satan comes as an angel of light (2 Corinthians 11:14), seeking whom he can devour and destroy (I Peter 5:8). We know that he will allow a few to be saved in order to lead the many down the mystical path towards the coming antichrist system. What this means is that these experiences cannot be the basis for which we validate our faith. Our faith must be grounded in the Word alone.
But their testimonies seem so genuine.
---
These four examples all have one thing in common and that is that they take our eyes off of God and put them on sinful humans. We turn to humans for our answers rather than to God's Holy Word that He has given us for just such a purpose. It is there that we find out Who God is. It is there that we find out how He works.
I know that there are those of you out there that won't agree with me on this. So let me just share one more overarching principle that all biblical Christians must keep in mind as we travel in this world–
Satan has one goal in mind and that is that all of humankind worship him. And, as we can see in scripture, he has laid out a very specific plan in order for this to happen in the final days of this age. But these things can't happen in a vacuum and he's been working on his plan very obviously since the beginning of time. One of the main things he must do is move "Christianity" into the realm of mysticism.
Mysticism can be defined simply as allowing truth to be determined by our subjective experiences rather than by objective facts.
As soon as Satan can remove a professing Christian's eyes from the Word of God, he has them right where he wants them. Even a true believer is rendered ineffective when they put aside the Bible in favor of other books, speakers, and experiences.
And so we must continue to judge all things by God's Word. We must be as the Bereans were in Acts, when Paul came to town–
Now the Berean Jews were of more noble character than those in Thessalonica, for they received the message with great eagerness and examined the Scriptures every day to see if what Paul said was true. (Acts 17:11)
Instead of judging the Bible by what we hear subjectively, we must judge what we hear subjectively by what we read in the Bible.
Do you see how we've gotten this all backwards in this current Christian culture? But, we as an individual, can choose this very day to do the right thing. We can determine that we will test all things that we experience, learn, or hear against God's holy, inerrant, inspired, and infallible Word.
We can stand, without apology, on the Bible and know that, no matter what ridicule, condescension, or antagonism comes our way from the world (and often the "church") because of this, that we are standing on the Truth. In the end, the Bible will be proven true, as it has so many times in the past already.
So today, let's remember that it must be the Bible that determines what we believe about God. For it is only there that we will end up with the right answers!
The grass withers, the flower fades, 

But the word of our God stands forever. 

(Isaiah 40:8)