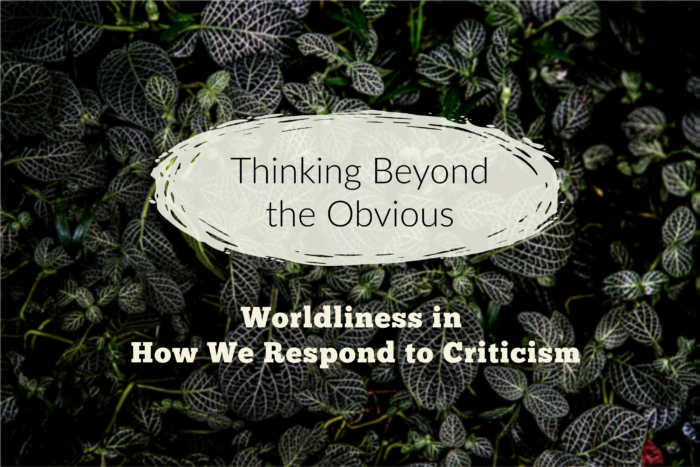 If you are a regular reader, then you will know that this is the fourth installment of a series I am currently writing on worldliness. You will find the rest of the series at this page.
Thinking through this subject of worldliness is not a very popular thing to do. Those who call themselves Christians, as a general rule, are very comfortable in looking exactly like their worldly counterparts. In so doing, they blend in instead of looking different, they aren't mocked and persecuted, and they get to do all of the fun things the world gets to do and still have fire insurance against hell. Who wouldn't want that kind of Christianity? Oh, these folks might give a little more money away and display a bit more kindness, but when it comes to how most who call themselves Christians dress, entertain themselves, where they go, how they spend their money, how they react and respond–well, most tend to be little clones of the rest of the world and nary give it a thought.
Even for Christians who do desire to keep worldliness on our "radar", it so easily and subtly slips in that we can get caught up in a worldly attitude or action before we even realize it. It is for those who truly desire to decrease worldliness in their lives that I write this series. Most out there who take on the name of Christian would never bother to read a series like this and this is why this blog will never be on any "top ten" list. Which is totally fine with me because I don't aim to please man with what I write, anyway. Fame is definitely not my end game and it is God who I want to please. The "Christian" culture of today (I use quotes because it is not Christianity but some false religion going by that name) requires no sacrifice, no self-denial, no persecution. Of course, no true Christian could write to please this current culture without serious compromise. This is probably worth a post of its own but I'd better move on to the topic at hand before I digress too far off-course! I do hope that this series is a blessing to those who truly desire to live for Christ, even in this area of worldliness. Today's topic especially hit home for me. This is topic #7 in the series–
7. RESPONDING TO CRITICISM. Ooohhh, this is a convicting topic. The world has seeped into this area of Christians' lives so easily and so thoroughly. Most of us are probably completely unaware. I know this because of my own struggle to respond like Christ and also because of the way I hear Christians talking about others who have had the audacity to criticize them.
The World: If someone dares criticize you, the world tells you to defend yourself. And to get angry and perhaps even hold a grudge. The world encourages antagonism, avoidance, hatred,  rejection, and scorn towards anyone who dares to speak any word that you might perceive as criticism against you. In fact, it doesn't even matter if it's not true criticism but are words born out of love and concern–if the person hearing the words even feels criticized, the world tells us that the person speaking those words is the enemy!
What the Bible Says: We are given a completely different response to criticism in the pages of scripture–
We are to forgive.
For if you forgive men their trespasses, your heavenly Father will also forgive you. 15 But if you do not forgive men their trespasses, neither will your Father forgive your trespasses. Matthew 6:14-15
There is no exception clause to this and so we can assume that this also means we must forgive someone who speaks words we don't want to hear. But it goes even a step further–
We are to examine and test ourselves.
Examine yourselves as to whether you are in the faith. Test yourselves. Do you not know yourselves, that Jesus Christ is in you?—unless indeed you are disqualified. 2 Corinthians 13:5
If we truly desire to grow in Christ, then we must be willing to hear what others have to say and give it some consideration. Does what the person say have merit? Is this an area in which I need to change? If it is then we should do something about it. And if we carefully evaluate it and we believe all is well, then we can–and must–let it roll out of our minds without a trace of bitterness.
I fear I must mention this here: Most of us have people in our lives who criticize us constantly. Nothing we do is right. A lot of times the criticism is about things that have no moral component or biblical issue. This can be very difficult. Many of you have critical parents or in-laws, adult kids, friends, co-workers, bosses. How do we deal with this as believers? I can tell you two things I have learned–First, consider their words and then let it roll. If it is something that won't help your relationship or to do your job better, or it isn't a biblical issue, then just let it roll. Second, remember how this continually critical person makes you feel and be sure you don't do the same thing!
We are to be kind and long-suffering in all circumstances.
Love suffers long and is kind; love does not envy; love does not parade itself, is not puffed up; I Corinthians 13:4

Even if we feel deeply hurt and offended by words spoken to us, it does not give us the right to lash out in anger. Again, there is no exception clause given in I Corinthians 13. As Christians, we are to be long-suffering and kind–no matter what the circumstances.
Pride is the reason we so easily fail in this area of responding to criticism. So few of us have the humility it takes to respond immediately to any kind of criticism in a way that is pleasing to the Lord. This week, my pastor said something that really brings this down to the nitty-gritty. When someone criticizes you, what is your immediate response?
Self-Defense or Self-Assessment?
Ouch.
I know how often I lash out in self-defense. How dare they think that about me? How could they make this assumption or that accusation? Pride rears its ugly head and off we go, almost before we realize what we are doing.
For most of us Christians, we do a turnabout face fairly quickly as we recognize the sinfulness of this response. But it is SO hard to get that first response right. Can I get an Amen?
This is especially true when the criticism or accusation is false. When someone outright lies about you or accuses you of something you did not do, our self-righteousness rears its ugly head and we feel quite justified in speaking our defense. Of course, there isn't anything wrong with speaking the truth in response. I am referring here to the attitude with which we tend to do so. We may be angry at the person or allow it to determine our mood. We may have feelings of hatred or even revenge. We may struggle to forgive that person. We may hold a grudge or feel bitter towards them. What does the Bible say about this?
Well, pretty much the same thing we've already covered–
Forgive, examine yourself, and be kind and long-suffering.
And then there are three more things that would be particularly applicable in the case of unfounded criticism–
Turn the Other Cheek.
But I tell you not to resist an evil person. But whoever slaps you on your right cheek, turn the other to him also. Matthew 5:39
Let the Lord Deal With It.

Beloved, do not avenge yourselves, but rather give place to wrath; for it is written, "Vengeance is Mine, I will repay," says the Lord. Romans 12:19
Love Your Enemies.
But I say to you who hear: Love your enemies, do good to those who hate you, Luke 6:27
We are to turn the other cheek, let the Lord take care of any repayment, and love our enemies. We are not to get into a shouting match or any type of battle with someone who treats us unfairly or unkindly. We are to turn the other cheek. We are to avoid fighting. We are to leave revenge with our King and never take it into our own hands. God knows every detail of what has transpired and we can trust Him to deal with it in His time and in His way. We are to love. Our duty is to forgive and to love. Can you imagine? Only a true believer can love their enemy for it is truly impossible to do this without Christ. In our obedient choice to love our enemies, we will set ourselves drastically apart from how the rest of the world responds.
So let's go into the world today and respond to criticism–whether it's constructive or unfounded– in a way that is befitting those who represent Christ!