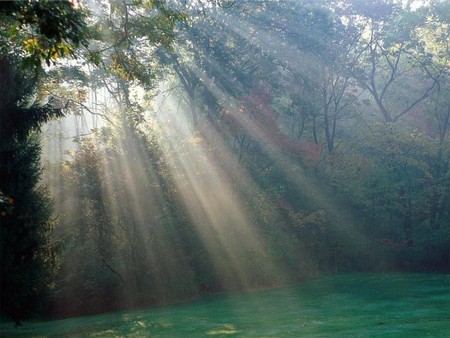 Sometimes ignorance is truly bliss, isn't it?
My eye caught the particles of dust that hung in the air in the streaming sunlight. I was taken aback. I actually breathe all of that in? That's disgusting.
The same thing has happened when the sunlight has hit my floor off of the kitchen. It makes what I think is a pretty clean floor show all of the dog hair, dirt, and debris that tends to get lost in a darker setting.
The light tends to do that. And many times we'd just rather not know.
But what if the light is really a blessing?
What if the light is the only way we know the truth? My floor is dirty and my air is dusty, whether I can see them or not.
In my journey through the New Testament the past couple of months, I have felt like much of it is a bright, shining light into the dark crevices of my life. And, while this is a painful and humbling process, it is also a freeing and hopeful process. There is so much I have to change, but it is not hopeless!
This is really one of the reasons why I am hoping more of you will join me in the Bible Reading Challenge. If you have the right heart when you start in January, you will not go away unchanged.
By right heart, I mean this–
I was talking with a friend the other day and she, too, is reading faithfully from God's Word each day and is experiencing the life-changing truths held within its pages. But she mentioned something that I think is worth mentioning here–
We will not be changed by God's Word if we do not have a submissive and obedient heart–a heart filled with love for our heavenly Father that truly desires to please God above self.
I finished the Old Testament a few months ago and those were the three words that kept coming up over and over and over again– humility, love, and obedience. It is so clear. It is the most important thing I learned in reading through the Old Testament. These qualities are not optional but are absolutely necessary in the Christian life.
So, honestly, I can't promise you that your read-through will be life-changing. Many, many people read God's Word whose lives are never changed. Only God (and perhaps they) know why. I am not the judge.
And I want you to know that I understand that this might not be the right time for you to join the challenge. And that's ok. You may have commitments that are too overwhelming right now or another Bible Study that you are involved in. Many of you I don't know, but many of you I do. You all need to know that I am not offended or judging you in any way if you don't join the challenge.
However, if God can use me to encourage even a few of you to develop a deeper and fuller love for His Word, I believe it is worth it. And so I truly hope that if you are even thinking about it, that you will join me. It doesn't cost anything. You can print out the schedule and at least start, right?
And– just to be clear– I am receiving no compensation or payment for this challenge in any way. This is about God placing within me a burning passion to get people back into His Word. I truly believe that the American church and Christian families would not be in the state they are in, if we had not allowed ourselves to become so biblically illiterate. I want to do whatever I can from my little blog corner of the world to change that.
I truly hope you will consider joining me. Click here for the details. And don't forget to subscribe to the blog (find the box in the upper right-hand of this page) to receive a special newsletter that will be bring encouragement, worksheets, and commentary for the challenge each month.
If you enjoyed this post, would you consider sharing it on your facebook page or twitter feed? I do not take in any income or spend any marketing dollars for Growing4Life, but rely solely on my readers to spread the word. Thank you!