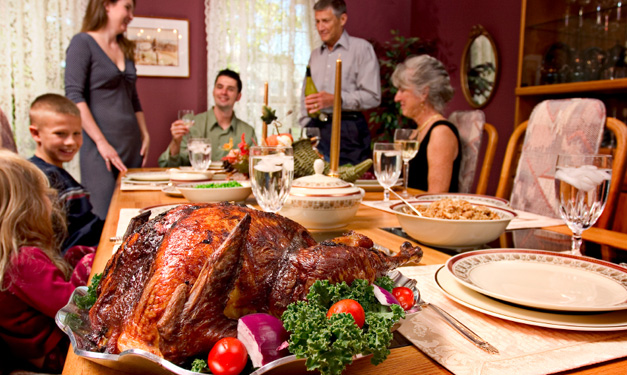 So many of us consider ourselves pretty good Christians. We don't drink in excess, we don't steal from our bosses or cheat on our taxes. We have been faithful to our spouses and we go to church almost every Sunday. All good things.
But there is nothing like a week full of family get-togethers to remind us of our sinful natures. This is where the "rubber meets the road" in our profession of Christianity.
As families go, I am pretty blessed. But in every family we have the potential of run-ins and relationship problems because we all are different– we have different priorities and we have differing views on religion and politics. We don't raise our kids the same way. And we don't feel passionate about the same things. Some of us tend to be very loud and boisterous and others of us are quiet and reserved. All this means that we don't always see eye-to-eye. How that plays out is not the same in every family.
Some families have loud debates or even arguments. Other families are full of sarcastic remarks that infuse every family gathering. In some families, it is just a cold, unbreakable tension that lies underneath all that goes on during their times together.
Hurtful remarks. Sarcastic comments. Cold shoulders.
They can all add up to a real lack of peace among family members.
And I am here to encourage you not to be part of any of it.
As Christians dedicated to growing in holiness each and every day, let's be the ones that bring peace and unity to the family.
What does this look like in practical terms?
These thoughts came to my mind this morning before I started my Bible reading this morning. A few minutes later I read this in I Peter 3—
8 Finally, all of you be of one mind, having compassion for one another; love as brothers, be tenderhearted, be courteous;[a] 9 not returning evil for evil or reviling for reviling, but on the contrary blessing, knowing that you were called to this, that you may inherit a blessing.
These verses give us such clear instructions on how to relate to others—practical and helpful as we face a week of family get-togethers and parties with friends.
We are to be of one mind. This is what Matthew Henry writes in his commentary about this sameness of mind that we are to have with other believers—
Christians should endeavour to be all of one mind in the great points of faith, in real affection, and in Christian practice; they should be like-minded one to another, according to Christ Jesus (Rom. 15:5 ), not according to man's pleasure, but God's word.
This unity can only be experienced with our Christian brothers and sisters. We will not be able to be unified with unbelievers, as we are categorically in opposition as we journey towards two opposite goals.
However, even if we can't be unified with unbelieving family members, we can certainly practice being compassionate, tender-hearted, and courteous, can't we? We can practice returning good for evil. We can choose to bless, rather than to choose revenge.
Revenge is such an ugly word, but in everyday life it can be very tempting to exact. It's not always something dreadful but can instead be how we choose respond to a person–making sarcastic remarks  or ignoring them, as we seethe in our souls.
Every day offers us opportunities to live out I Peter 3:8-10. But there are few times each year that offer us so many opportunities to practice this than during the Christmas season–a time that taxes even the closest of families.
May we be the ones that bring a breath of fresh air to our family gatherings. Let's be the ones that offer abundant grace and blessing, no matter how hurtful the remark or how unkind the deed. It may not be easy, but we have the Holy Spirit guiding and directing us. Let's walk in the Spirit and choose to show loving-kindness with a joyful heart this holiday season!
**On a different note**
I'd like to thank you, dear reader, for joining me on my journey to grow in Christ this past year. I count it as a privilege and a blessing that you would use some of your precious time to read my posts. I wish you a wonderful Christmas and a blessed New Year.